Every year, an estimated 3 million older adults fall and end up in the hospital. Of those falls, over 800,000 caused a hip fracture or head injury. If your mom or dad falls, odds are higher than they'll fall again that year. The best way to prevent one or more falls is by taking preventative measures.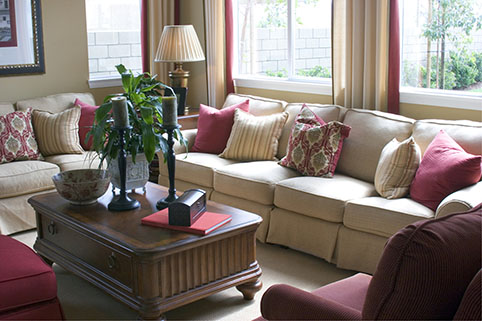 You need to go through each room and identify issues. When you're going through the living room, these are the things to look for.
Where Do Your Parents Go To?
When your parents leave the living room, where are they most likely to go. It's going to be rooms like their bedroom, bathroom, kitchen, dining room, and laundry room. They may go to other rooms, but those are the rooms they'll head to the most often.
Now, take a look at the path they're taking to get there. What furniture do they walk past? Do they walk around any furniture? If they have to walk around furniture, can it be moved to give them a straight path? This may mean getting rid of a coffee table or shifting chairs to be closer to the route they take.
Move the furniture so that they have a clear path. Make sure you're looking for table or chair legs that stick out and may catch toes if the furniture isn't pushed back far enough.
How is the Lighting?
Is the living room well lit? Are there shadowy areas or dark corners? Lighting needs to be bright in all corners of the living room. It also needs to be bright as you shift from the living room into a hallway that leads to the bathroom or bedrooms.
If there are shadows or dimly-lit areas, the risk of a fall increases. Motion-detecting or light-sensing nightlights can help with walks to a bathroom after living room lights are turned off at night.
Remove Clutter and Unnecessary Decor
Take the time to rid the living room of clutter. If there are so many books on a shelf that some are piled on the floor, it's time to clear some of them out. A decorative throw rug may look attractive, but your mom or dad could step on it and slip. That chair that is uncomfortable and never gets used, it's time for it to go.
Make sure your parents have the best chance for a full recovery after a fall by hiring senior care services. While they're resting, a caregiver could keep the house clean, wash and put away the laundry, and cook meals.
Don't let them try to keep doing these normal household chores independently until a doctor says it's okay. Once they're fully recovered, senior care services are easily adjusted or stopped. Call to learn more.
If you or an aging loved-one are considering hiring Home Health Care in West Hollywood, CA, please call Mom's Home Care and talk to our friendly, knowledgeable staff. Our number is 323-244-4789
Sources:Cdc.gov