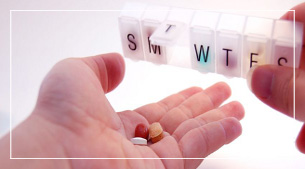 Seniors use more over-the-counter and prescription medicines compared to any other age group. Keeping track of multiple medications on a daily basis as well as their proper administration can be challenging for most people especially the elderly and those suffering from memory loss.
Managing medication properly is crucial for the wellbeing of your loved one. As such, medication reminders are one of the essential services Mom's Home Care provides.Our professional caregivers assist your loved one in their medication management by tracking their dosages, reminding them to take their medications on time, as well as reporting any side effects of the medication to you, other family members, or the appropriate medical personnel.
Our staff conducts a complete inventory of all the necessary medications upon the start of our service and provide updates as needed. We also help you order and pick up refills and store your medication properly.
Why Get Medication Reminders Services?
As the population ages, home care services are quickly becoming a priority especially in the area of senior care. Medication reminder is one of the simple and cost-effective services provided by home care service providers to help keep seniors healthy. Modern science has remarkably changed over the years to help prolong our lives. However, the lack of a suitable solution for everyday assistance can prove to be costly for those who cannot afford a complete senior home care package.
Therefore, medication reminders is a cost-effective solution for you or a loved one if you are looking to avoid assisted living or nursing home admission. Elder care issues are a reality today and caring for your aging spouse or parent takes a physical, emotional, and financial toll on you. If you cannot afford to retire or quit your job to take care of your loved one, hiring medication reminders services is a cost-effective solution to ensuring your loved one takes all their medication on time.
Medication reminders services can, in some cases, replace expensive senior care because it provides periodic reminders to your loved ones to take their medicine on time. These services also help to avoid life-threatening conditions resulting from the failure to take the recommended medication such as heart medicine, blood pressure medicine, or thyroid medicine. Your loved one risks the danger of falling into a coma, having a stroke, or even death.
Many seniors and people with serious medical illnesses depend on medications to remain healthy. However, these medications are only helpful to your loved ones if they receive the correct dosage at the correct times. Missing, skipping, or overdosing poses a serious health risk.
Taking medications accurately as prescribed by the doctor is an issue that many seniors face. Do you sometimes feel as if the days of the week are running into each other? Well, that is pretty much what many seniors feel and this can be exacerbated by cognitive or memory issues. In serious cases, seniors are admitted to hospital as a result of health issues arising from taking medication incorrectly.
If you find it difficult to help your elderly parents or loved ones take their medication correctly, you may need to consider hiring professional caregiver services from Mom's Home Care in Los Angeles, CA, to keep your senior loved ones at home longer and comfortable.
The Challenges of Medication Management
Medication management becomes difficult for seniors because, often times, they are prescribed several medications at once due to complications and illnesses arising from their old age. What's more, the different medications all have different sets of instructions for frequency and dosage. Also, some of the pills of various medicines look the same, and if not, it is still a challenge trying to remember which is blue and which is pink.
Ironically, patients suffering from Alzheimer's and dementia are prescribed numerous medications despite the fact that they are suffering from deteriorating cognitive skills. Unfortunately, this cannot be helped because, at the end of the day, they need all these medications.
Signs That Your Senior Loved One Needs Medication Reminders
Many older parents will not bring up the fact that, or may not be aware that, they are getting confused about medication. It can be quite embarrassing for them to admit that they are unable to take their medication as required by the doctor. Rather than wait for your aging loved one to ask for help with their medication, it is pertinent to observe them for a while to see how and when they are taking their medicine.
If your loved one is suffering from cognitive conditions such as dementia or Alzheimer's, you need to follow up-closely to ensure that they always remember to take their medicine. Watch out for the following signs if you are worried about them.
Your loved one has more medication left over after a certain period, say one month, than they should. This means that they are either skipping their medication times or forgetting to take it altogether.
You loved one goes through their medication too quickly. You can realize this if your pharmacy cannot refill the subscription because they think it is too early to do so. This shows that your loved one is either taking a higher dosage than they are supposed to or have otherwise tampered with the medication.
Your senior loved one's health continues to suffer and certain issues such as blood pressure that was under control using medication are beginning to re-emerge.
Your aging loved one cannot remember if or when they took their medication.
Your loved one cannot completely understand dosage instructions.
If you begin noticing any of the above signs, you should start implementing medication reminders or hire professional in-home care services.
How to Use DIY Medication Reminders to Keep Your Loved One on Schedule
As you design a medication reminder program to help your aging loved one take his or her medication correctly, you need to have some goals in mind. Your schedule should:
Be simple enough to be easily understood by your loved one
Keep medication organized as per the times when it needs to be taken
Clearly show you whenever your loved one misses their medication dosage
Allow you to prepare or pre-measure medication dosages to avoid inaccurate dosing
Be easy to supervise
While there are several medication reminder methods that can help your loved one take their medication correctly and accurately, none of them are foolproof. Ergo, no matter the medication reminder method you choose to implement, it is vital that someone monitors it.
Always make a point of supervising your loved one every day to ensure that they are taking their medication and following your schedule accordingly. Supervision also allows you to know whether the method is working and if you need to make changes to ensure it is effective. If you cannot check on your loved one personally on a daily basis, you may need the services of a professional home caregiver to assist you with medication reminders and other needs that they require.
Popular Medication Reminder Methods to Use
Pill Boxes
Pillboxes are popular because they are simple to understand, affordable, and easy to use. What's more, there are different designs that you can choose from. When shopping for a pill box, pick one with the following characteristics:
Has large spaces to accommodate the different sizes of your loved one's medication
Has clear labels showing the time and day that each dose needs to be taken
It should be easy enough for your loved one to open
Whenever you are using a pillbox, always fill it up with the appropriate medication dosages ahead of time. This will allow your loved one to take the correct medication from the right box at the right time. Pillboxes make it easy or you to know at a glance if your loved one missed their dose.
Pill Pack
Pill Packs ship your loved one's medication in pre-sorted individual packages. Each pack is labeled with the correct medications and dosages contained therein. They also have large labels that show the time and day when the medication needs to be taken.
Pill Packs ensure that there is no guesswork when it comes to your loved one's medication. Therefore, all that they have to do is follow the medication schedule as indicated. The packs are created and packed at the pharmacy before they are shipped to your door. Pill Packs are the best option if you live alone, or you have no time to fill each pill pack.
Safety Considerations about Medication Reminders
All medication needs to be handled correctly and carefully. Incorrect or missed doses can significantly impair your loved one's health. Consider the following safety tips when preparing medication reminders:
Follow Medication Handling Instructions
Always read all the handling instructions on medication before putting it into a pill box. Some medications should be stored within a strict temperature range to prevent them from going bad. Such medicines cannot be prepared ahead of time.
Keep Extra Medication Safe
After loading all the pill boxes for your loved one, keep the remaining medicine away in a safe location. Do not place them where your loved one can easily spot them since it may confuse them and lead them to take more medication than they were prescribed.
Take Medication Errors Seriously
If your loved one misses their dosage or takes too much of it, you should take this very seriously. Do not make any assumptions since such errors could significantly affect their health. If you note any error, call their doctor immediately or go to the hospital and consult them.
Why Use Mom's Home Care Senior Services?
In many cases, seniors simply get overwhelmed by the complicated medication regime they are required to follow on a daily basis because previously they were not accustomed to taking such high medication doses. Many conditions that afflict seniors, such as diabetes and hypertension, call for several medications throughout the day. Moreover, many of these drugs are not taken together, which means that you need to keep abreast of the different times you are required to take a different medication.
With such a hectic medication schedule, many people simply forget to stay on top of their medication routine and require reminders or supervision. This is because failure to take medication as and when required by your doctor could lead to serious complications such as strokes, comas, or death.
Mom's Home Care has qualified caregivers who offer a range of care services including medication reminders. Medication reminders allow you to rest assured that your loved one takes all the medication they are required to at the correct time. What's more, our services allow your loved one to receive customizable and periodic reminders about their medication in as little or as much detail as you wish them to receive. You can also update the reminders as often as possible.
Medication reminders act as a simple and cost-effective tool that allows you to care for your loved one in the comfort of your (or their) home. Therefore, there is no need to result to measures such as retirement, resigning from your job, nursing home admission, or alternative elder care placement.
All our staff is trained in care-giving and can dispense and monitor medication according to the physician's orders. They can also document when medication is given and any reaction to it that they note. All our caregivers are required to remain in constant contact with not only you but also medical professionals to report any changes in treatment programs and medical care.
A good caregiver can maintain accurate records of all medication taken including anti-depressants, sleeping aids, or heart medications. Our caregivers also maintain your loved one's pill boxes. They are not allowed to give injections, start or change IV bags, or dispense any other type of invasive medication. Instead, they contact a licensed nurse or physician to administer them. Mom's Home Care works closely with several Los Angeles health nursing services to assist in coordinating health services.
Mom's Home Care is a state-licensed agency and all our caregivers are thoroughly trained, TB cleared, Live Scan fingerprinted, and receive ongoing training whenever necessary. We offer 24-hour services seven days a week to all our clients because we know that you rarely get to schedule health problems to suit your convenience.
We want all our dear clients to feel secure and know that they can depend on our service delivery to meet their care needs. As a non-medical, in-home care provider, we have a long-standing reputation in and around Los Angeles due to our integrity, compassion, skill, and conscientious care for anybody in need of professional care. Call our caregiver today at 323-244-4789 to know more about our medication reminders.