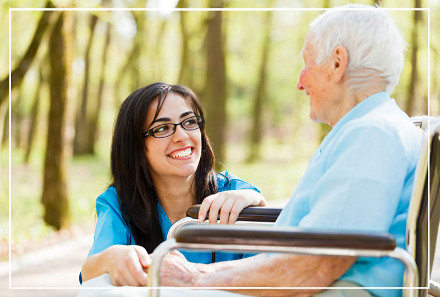 As your senior loved ones advance in age, having all their basic needs fulfilled is perhaps the most important and compassionate things you can do for them. While every senior citizen has their unique needs, many services are important to most, if not all. One of which is companionship care.
You may have noticed your aging parents' home starting to decline: undusted shelves and dirty counters. Or perhaps their health is waning; they are growing older and forget taking their medicine. Maybe one of your parents has survived their spouse and is feeling lonely or depressed. Whatever the signs, you wonder whether you are doing enough to be there for them and whether they need assistance around the house.
For seniors, it is not enough to get them a house help to assist in chores around the house. You need to hire professional companionship services to offer nonclinical assistance that is vital to the emotional, physical, and mental wellbeing of your loved one.
For seniors in their golden years, having the love, support, and companionship of their loved ones is essential for staying healthy and active. However, like most people, your busy lifestyle and hectic schedules may cause you to neglect to offer your aging loved ones the time and care they need. Most people are consumed with their marriages, jobs, kids, or merely getting through the week.
At Mom's Home Care, we offer several care giving services to families like yours that love their senior loved ones but rarely have time to care for them properly. We understand that you cannot spend as much time with them as you want. That is why our qualified staff is made up of professional, certified caregivers that you can not only trust but also depend on to care for your loved one.
What is Companionship Care?
It is common for senior citizens who live alone to start experiencing symptoms of dementia or Alzheimer's. While these conditions are often related to aging, they can also be caused by limited social interaction. You see, seniors need to have their brains exercised on a daily basis, which is only possible through social interaction. This is the reason why companionship care is one of the essential types of in-home care services that you can arrange for your loved one.
Companionship services provide your senior loved one with professional nonclinical assistance in the comfort of their home. They get someone to talk to, share stories with, and spend their days. The caregiver is available to spend time with your loved one playing board games, going shopping, visiting their favorite restaurant, or watching movies. This allows your loved one to remain an active, worthwhile, and productive member of society.
When you are not available to take your senior loved one on a walk around their block or for weekly community meetings, having a trustworthy person to do it is a good idea. This allows you to take care of all the other aspects of your life knowing that your loved one is in good hands.
Why Seniors Need Companionship Care
Research shows a strong link between health and social needs. Physicians often attest that unmet social needs can directly lead to worsening health. This means that a patient's social needs are equally as important as their medical ones, and both need to be addressed.
Overcoming emotional challenges can be difficult for many seniors, more so if they live alone. As seniors age, many lose touch with their friends because of particular circumstances beyond their limit such as the inability to drive or travel to stay connected to family and friends.
Despite the challenges above, competent home care fills the resulting social gap that is created when seniors grow older. Home companions are tasked with monitoring and protecting their client's health, safety, and wellness. They also provide much-needed social interaction and help with everyday household tasks.
Roles Caregivers Play in the Life of Your Senior Loved One
Companions are trained to provide supportive conversation and interaction. They also help seniors plan social outings, stay mentally active by playing games, as well as providing friendly encouragement to start light exercises like walking.
Supportive and Friendly Conversation
Seniors have lived a long life, and as a result, many like to reminisce about their experiences. They often relive happy memories and past events, which helps them affirm who they are and gain insights into different aspects of their life. This is important because it prevents symptoms of mental conditions like dementia and Alzheimer's.
An in-home companion caregiver will always at hand, and well trained, to provide an attentive ear and help guide conversation that keeps the memories of your loved ones intact. Your loved one will always have company to reminisce about life and share stories about their families.
Plan and Encourage Social Activity
Staying active and remaining independent is essential for the physical and mental health of your loved one. Home companions are always at hand to make the most out of the daily moments of your loved one. They help plan trip and excursions to the zoo, play dates with kids, scrap booking, crafts, shopping sprees, as well as scheduling holidays and vacations with family or friends.
Encourage Active Thinking
Research has proved that remaining mentally active can help ward off the mental decline commonly associated with aging. Companion services help structure pastimes, games, and hobbies to keep seniors stimulated, interactive, and engaged.
Encourage Light Exercise
Exercise is important for maintaining good health, especially for seniors. Caregivers encourage and plan for their clients to participate in activities they enjoy to gain greater mobility, independence, and quality of life. Senior companions accompany your loved one on walks and other activities they have planned to motivate them.
Importance of Companionship Care
Having doubts and reservations about enlisting the help of a home care aide is normal. This is because you may feel guilty about passing off the care of your elderly loved one to a stranger. However, if you are against sending your loved one to an assisted care facility, then hiring professional companionship services is your best choice. Below are some of these benefits:
Avoiding Frustration and Disappointment
When you provide care alone, you end up missing out on spending quality time with your loved one. This is because, your interactions become routine and by the time you are finished bathing, cleaning, and feeding them you are too tired to do anything else like going out for walks. You can easily end up frustrated as you try to juggle taking care of your elderly and living your life. Hiring companionship care avoids these problems.
Your Elderly Feels Part of a Community
Loneliness can easily trigger negative thoughts that can snowball into feelings of neglect. This is more evident when the senior loved one survives their spouse and friends. Therefore, engaging with an all-day companion or caregiver ensures that your elderly loved one pursues their interest and remain involved in their community.
Engaging in Hobbies and Social Activities
Like children, senior citizens need constant encouragement and motivation to engage in activities and hobbies that make them happy. Furthermore, companionship allows seniors to take up new hobbies making new friends or continue old activities, which boosts their social and emotional being.
Reduced Risk of Motor Function Loss
At-home companionship keeps the elderly active which is crucial for reducing motor function loss. Companions encourage their clients to remain active by doing light exercises, going out for walks around their neighborhood, visiting a nearby park or zoo, or engaging in outdoor activities like bird watching.
Reduced Risk of Cognitive Decline
When left isolated, an aging mind is not stimulated through constant interaction leading to faster cognitive decline. A companion provides the necessary conversation and communication required by senior minds to remain stimulated, healthy, and aware. Reducing the chances of feeling depressed, isolated, or stressed allows the brain to stay healthy and optimistic for longer.
Enhanced Memory Stimulation
The old love reminiscing about their past and telling stories of their encounters. Trained companions can keep their clients talking about the past. This enhances their memory and recollection because they have someone with whom to share these events.
Avoiding Depression
As your loved one grows old, they begin losing their friends and start stressing over their old age. The physical and emotional changes that they experience can take a massive toll on their emotional and mental wellbeing leading them to fall into depression. This can happen right under your nose since your loved one could be hiding the truth from you either for self-preservation or to protect you from their new reality.
You Get Insight into Your Loved One's Life
A companion not only provides a caring ear to senior citizens but also gives you valuable insight into the life and personal well-being of your aging loved one. This allows you to remain involved in their life and understand what they are feeling.
Aside from offering emotional assistance to your elderly loved ones, below are a few more things that companions do for your senior loved ones:
Assist the elderly with their essential daily routine including bathing, cleaning, and keeping them safe.
They ensure that medication is taken on time as well as that your loved one follows their treatment plan.
They are trained in elderly nutrition; thus, ensure that their clients eat healthy food and follow a diet.
Companions allow seniors to keep doing what they love safely; this includes watching movies, eating out, or going shopping.
Companionship allows your aging seniors to live with dignity because they retain a level of independence.
Companionship provides just that, friendship and company.
Why Choose Mom's Home Care?
Mom's Home Care offers competent and trustworthy companionship services in Los Angeles, California. Our staff is trained in several professional services ranging from companionship care to first aid. Therefore, you can rest assured that your aging loved one will be taken good care of while you are away. Also, our staff is flexible enough to arrange for an appointment with your loved one in the hospital, at home, or even in a care facility.
Mom's Home Care believes in providing timely services as and when needed by clients. That is why we provide 24/7 services when called upon to do so. We offer free assessments that can be scheduled on the same day if needed. We understand that emergencies occur and are always ready to provide urgent assistance at a moment's notice. We maintain an extensive database of caregivers all qualified and experienced in different professional services including companionship.
Our family room is an original feature that allows you to follow your loved one's companionship care. It has information on medications, activity schedules, in-home task details, and any other relevant development. This information is also available to other associated care professionals like your family physician.
Mom's Home Care believes in offering our new customers quality services with attractive discounts of up to 10 percent during the first two weeks. This allows us to build a rapport with you as you try out our top-notch services.
Mom's Home Care is the recipient of many certifications and awards, which is our industry stamp of approval. We are certified by both the California Association for Health Services at Home (CAHSAH) and Home Care Pulse. We have, further, received several awards including Best of Homecare's 2017 provider of choice. We also enjoy good reviews on Yelp and top rating from Caring Star Agency.
Your loved one has always provided for you since you were a kid. Now, it is your turn to take care of them during their twilight years and ensure they live as comfortable as possible. Companionship is fundamental to the overall well-being and health of your loved one. Moreover, it allows them a sense of independence since they get to remain in their home, which is a familiar environment with many memories.
At Mom's Home Care, we provide trusted professional companionship services in Los Angeles, California, allowing you to meet all your other personal obligation. We are a premier non-medical home health care company based in Los Angeles, California. We care for your loved one and make that their health, well-being, happiness, and safety our primary concern. Call us today at 323-244-4789 to schedule an appointment.