Call Us: 323-244-4789
Call Mom's Home Care If…
You are recovering from an illness or hospitalization and need help while you regain your strength.
You need someone to help run errands or take you to appointments.
You need assistance getting dressed and showering.
You need help with housework, laundry, and grocery shopping.
Your current caregivers need a break.
You have a terminal illness and wish to remain at home.
You are at risk for falls and need assistance ambulating.
Your loved one has dementia and needs supervision.
Moms Home Care-Experience You Can Trust!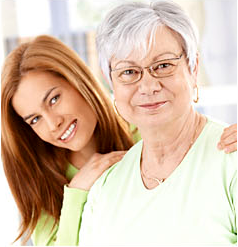 Your loved one's have been there for you. Now it's your turn. We make it possible for you to ensure their care needs, while maintaining your job and making sure all of your other personal obligations are met. When you want to give your loved one's the best care possible, Mom's Home Care is there to help.
The staff of Mom's Home Care understands how hard it is to watch the ones you love become dependent on others. As the premier, non-medical home health care companies in the Los Angeles, we help bear the burden associated with taking care of a loved one in the home. Our qualified and highly trained staff are here to help you give them the care they need so they can remain in the home for as long as possible. Aging doesn't have to mean being taken from the only home they have known. We provide you with the means to be able to keep them in their home, as well as secure their safety and make sure their needs are met.
Leaving an elderly family member alone while you go to work or run errands can be a scary experience. We can help you by keeping them safe while you're gone. Your loved one's health, happiness, well-being, and above all, their safety are our primary concerns. We do everything possible to make them as comfortable as we can.
Getting Started is Fast and Easy!
Whether you are trying to introduce the idea of a caregiver for a loved one, or your loved one needs someone urgently, Mom's Home Care is here to help. We offer free, no obligation assessments which can be same day if needed. One of our trained staff members can come out to your loved ones home, hospital, or care facility. Our staff member will create a professional and specific care plan as well as provide you with pricing. They will discuss the importance of having caregivers who are employees-not independent contractors as well as our inclusive insurance coverages. They will also ask about your preferences in regards to the caregiver. Just call us at 323-244-4789 to get started today!
Know Exactly Who and What is Going on in the Home.
Moms Home Care is proud to offer an optional feature called the Family Room. The Family Room provides family members & associated care professionals with information on upcoming schedules, the caregiver team, medications, and even details down to the tasks that were completed during each shift. Please see the video below for details.
State Licensed Home Care Agency
Mom's Home Care is proud to be a licensed Home Care Organization (HCO) licensed through the Department of Social Services Home Care Services Bureau. State license number 194700009
Fast Service Available
Unfortunately accidents happen suddenly and the need to have assistance comes up quickly. If you or a loved one needs someone urgently, Mom's Home Care can help. We maintain a large database of experienced and qualified caregivers. We have caregivers that are available on call for emergency situations 24-7.
Discounts for New Customers
Mom's home care offers discounts for new customers. New customers can receive up to 10% off their first two weeks of service. To qualify for our discount program, you must have a caregiver for more than 6 hours per day and at least 3 days a week. Discount not available for clients receiving hospice services. Minimum 1 month service required to receive discount.