Call Us: 323-244-4789
Call Mom's Home Care if…
You or a family member is being discharged from Cedars Sinai hospital or Rehab Centre of Beverly Hills and needs help transitioning back home
You or a family member needs help grocery shopping or going to appointments.
You or a family member need help bathing or dressing
You or a family member need help around the house, preparing meals, and/or laundry
Your family member is beginning to have memory loss and needs more supervision
Current caregiver are going out of town for vacation or need some rest
You or a family member have started hospice services and need more care
Moms Home Care - caregiving with compassion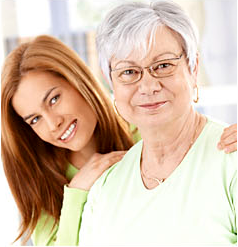 The staff of Mom's Home Care understands how hard it is to watch the ones you love become dependent on others. As the premier, non-medical home care companies in the Beverly Hills, Century City, and Westwood area. Our caregivers provide the support needed to care of a loved one in the home. Our qualified and highly trained staff are here to help you give them the care they need so they can remain in the home for as long as possible. Aging doesn't have to mean being taken from the only home they have known. With a team of care managers, we provide you with the comfort to be able to keep your loved ones in their home, as well as secure their safety.
Leaving an elderly family member alone while you go to work or run errands can be a scary experience. We can help you by keeping them safe while you're gone. Your loved one's health, happiness, well-being, and above all, their safety are our primary concerns. We do everything possible to make them as comfortable as we can.
Get started as soon as today!
Mom's Home Care has been in the Beverly Hills area for several years, servicing clients in Westwood, Century City, West Hollywood, and surrounding areas. Our main office is located right across the street from Cedars Sinai hospital which allows us to schedule assessments quickly and have fast access to our clients if needed. If your loved one lives in the Beverly Hills and surrounding area, we can come out quickly to assess the situation. A care manager will create a professional and specific care plan as well as provide you with pricing. We will also discuss the benefits of caregivers who are employees-not independent contractors. Please call us at 323-244-4789 to discuss our services and policies.
Know precisely what's going on
Moms Home Care utilizes GPS tracking for our caregivers and we know exactly where they are when they clock in and out of shifts. This allows us to accurately keep track of hours. We also offer an optional feature called the Family Room. The Family Room allows family members, responsible parties, care managers, and physicians access to information on upcoming schedules, the caregiver's assigned to the case, medication lists. and even details down to the tasks that were completed during each shift. Please see the video below for details.

State Licensed Home Care Agency
Mom's Home Care is proud to be a licensed Home Care Organization (HCO) licensed through the Department of Social Services Home Care Services Bureau. State license number 194700009