For many of us, home is a sanctuary and living there for as long as possible is a priority. But during a person's life, especially a senior, certain circumstances and events can challenge their ability to perform even some of the most basic daily tasks or live at home without any assistance. It's not easy to admit that you or your Mom and Dad are in need of elderly care. But when that time comes, it doesn't mean that they have to give up their home. Also, you don't have to let other obligations go unfulfilled or end your career to take care of your elderly Mom, Dad, or other loved one who is at a point where he or she needs in-home care. There is no shame in reaching out to get the help you need and it doesn't mean that you are abandoning your loved one if you hire a trained, professional caretaker.
The decision to enlist in-home care services can be difficult and fraught with doubt and anxiety for many people. As the premier, non-medical home health care company in Beverly Hills, CA and surrounding neighborhoods, Mom's Home Care is there to help bear the burden associated with taking care of a loved one in the home. Our trained and highly skilled staff can provide you with exactly the type of home care services you need, whether temporarily, permanently, or on an on-call basis.
If you can't provide fully satisfactory care for your Mom or Dad on a continual basis, it means that there will be a time when you need temporary or additional help. And we at Mom's Home Care will be there to give your loved ones the best care possible and make them as comfortable as we can, while you maintain your job and make sure that all other obligations are met.
Who Can Benefit from Mom's Home Care Services?
A good candidate for our services is any individual who significantly needs help executing daily life tasks or needs on-call nursing care. Getting more specific, you can call Mom's Home Care if:
Your favorite senior is recovering from a health condition, an illness, or recent hospitalization
You need someone to run errands, provide necessary transportation, and take you to appointments
Your loved one has health conditions and chronic diseases
The current caregiver needs a break or has to attend to other matters
Your loved one is at risk of slip and fall accidents if left home alone and need assistance ambulating
Your loved one is terminally ill but wants to remain at home for their final days
You need help with house chores, meal preparation, personal care, and other basic tasks
Your loved one suffers from dementia, Alzheimer's or other health conditions that normally impact the elderly and needs supervision
We'll be there for you or your loved one to make sure that things are healthier, safer, and more convenient, be it temporarily, permanently, or on an on-call basis.
How Do You Get Started with Mom's Home Care?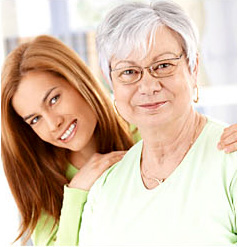 Whether you're loved one needs someone urgently or you're trying to introduce the idea of a caregiver, Mom's Home Care is here to help. Simply call us at 323-244-4789 to learn more about us and the services we offer, or to set up a free, no-obligation consultation with one of our seasoned staff members. They'll come to your loved one's home, care facility, or hospital to assess the situation, tailor a care plan, and provide you with the pricing. They will also ask you about your preferences when it comes to the caregiver.
And once you start receiving our services, we don't keep you in the dark about what's going on. We're proud to offer an optional feature known as the Family Room. This feature provides family members and associate caregivers with information on the care team, medications, upcoming schedules, and even details of the tasks that were completed during each shift.
Also, we offer new clients a 10% discount on services for the first two weeks. This only applies if the services are scheduled for over 6 hours a day for 3 or more days per week and you continue services for a month or longer. Hospice care is not included.
Why Choose Us?
When those who have been there for you are in their golden years and need assistance with daily living, it's your turn for you to be there for them as well. But that doesn't mean being there physically round the clock. To one degree or another, you'll have to enlist the services of a professional home care provider.
Mom's Home Care is a state-licensed home care agency and a trusted elderly care provider in Beverly Hills since 1997. Feel free to look us up by our Department of Social Services Home Care Services Bureau license number (194700009) to see our BBB rating. We also invite you to check our online reviews or ask any of our former and current clients.
We've been providing all manner of non-medical health care services to the elderly of Beverly Hills and we stand ready to provide the same great care to you. We have over three decades and running of experience, highly skilled and trained staff, respectful caregivers, and a name you can trust. We've built a reputation for skill, integrity, and conscientious care that is well recognized across Beverly Hills. All our services are geared to enrich lives and form strong bonds.
Because we look for people we would feel comfortable entrusting the care of our elderly parents too, we are very careful about how we hire our staff. We only go for the highly trained and the most reliable candidates. We make sure that all caregivers are fully qualified to complete their tasks and demonstrate a loving concern for all our clients. In fact, we run a background check on all candidates and put them through a thorough screening process. Those who will be responsible for running errands or transporting our clients must have a valid current California driver's license and a good driving record.
Another reason to choose Mom's Home Care over the competition is that we cover all our employees with workers comp and general liability insurance. As such, you're not left with any of the liability or risk-taking. We monitor our caregivers with cutting-edge technologies and we know if they're late. If your scheduled caretaker is so much as 10 minutes off schedule, we send out an urgent alert to get you another one. We always communicate with you if there are any significant developments.
Live-In or On-Call Care
We can provide part of the day, all-day, or on-call care as needed for any and all of our services. How long you use our services is 100% up to you. We are flexible to your needs and will work with you to set up a plan of care for you and your loved one based on your situation, needs, and preferences. And you're free to adjust your plan of care as needed going forward.  We at Mom's Home Care also have a people standing by 24/7 ready to assist you with emergency care requests. We know that you can't schedule emergencies and we'll do everything possible to get you one of our caregivers quickly to help with areas of daily living and non-medical home health care services.
Our Offered Services
We provide a wide range of services for seniors across Beverly Hills and Southern California. And as we deliver all our services, we're committed to maintaining a high level of personal dignity and respect for our clients at all times. We're flexible to meet client needs in any way possible. You can visit our individual service pages on this website to delve deeper into more detailed information about each of our various offered services. However, here's a basic overview of the elderly care services that we commonly provide.
Simple companionship is a basic human need. And for senior citizens who live alone for extended periods of time, the risk of dementia or Alzheimer's, depression, and general cognitive decline conditions develops sooner due to the lack of social interaction. So it's not just a matter of aging and hereditary predisposition. Seniors who stay engaged and social have a better quality of life.  
Our caregivers provide friendly companionship, conversation, day-to-day social interactions, and mealtime companionship to keep your loved one engaged and upbeat. This can mean spending time conversing, watching TV together, going shopping, playing board games, eating together, and more.
There are often errands that need to be run either on a day to day or weekly/monthly basis. However, as we age, getting around can be difficult, especially if unable to drive or even walk to/from the store. That's why we at Mom's Home Care include shopping and errand –running on our list of services. Be it stopping at the pharmacy, picking up food to-go at a restaurant, running a letter to the post office, or any other errand, we can take care of it. Your loved one is welcome is welcome to come along for the ride or stay home.
Toileting and Incontinence Care
While it's an unpleasant subject that nobody likes to talk about, the fact is that most senior citizens often need special assistance in toileting. At Mom's Home Care, we understand the sensitive nature of toileting and incontinence care and also the embarrassment and frustration this situation can bring. Without proper care, the elderly can face many issues, including unpleasant odors, skin infections, and general hygiene problems.
We take a "matter of fact" approach and offer compassionate, dignified help with these personal aspects of daily living. We can help ensure the toileting environment is usable and safe for your loved one. If there's need to get the TP roll repositioned, grip rails installed, or the toilet height adjusted, we can assess it and get it taken care of. Also, we deal with all the various types of incontinence and can help access which toileting options are best.
Cleaning the house and handling other simple tasks becomes a major challenge for the elderly and those who have limited strength to expend each day. Mom's Home Care can provide housekeeping services for your elderly Mom or Dad, including, dusting, vacuuming, sweeping, mopping, cleaning bathrooms, cleaning kitchens, straightening all rooms, and organizing closets and drawers. We take care of all these household tasks and keep the home clean, livable, and healthy.
Healthy eating is of the utmost importance, especially for seniors.  But as we age, our bodies lose lean mass and need more nutrient dense foods to prevent malnutrition and development of new or worsening of existing medical conditions. Unfortunately, many seniors are not eating balanced diets because they don't have an appetite, lack the strength to cook or are simply unable to go to buy all the groceries.
This is where we step in and help in the kitchen when needed. Our caregivers prepare wholesome and flavorful meals to meet all the nutritional and dietary needs. If your loved one has health conditions or restrictions, we can manage his/her menu plan and monitor his/her diet and health.
While Mom's Home Care only provides non-medical care, we also handle medication management and ensure that those under our care take their medication as prescribed by reminding them when it is time for the next dose. We can document the dispensing of the medications, maintain your loved one's pill box, and note any side effects that might occur, if necessary. We do not, however, administer invasive medications or treatment, change IVs, or give injections.  
As we age, we reach a point where we can no longer continue doing simple tasks like bathing and keeping up with good hygiene, especially for those suffering from brain disorders that add further complications. Mechanical movements become more difficult and strenuous, making a simple hygienic task a complicated process that may require assistance. Also, brushing, flossing, shaving, combing, getting dressed in the morning and the like are all necessary tasks that can't be avoided.
Paying particular attention to grooming can help seniors can look and feel their best, boosting their self-esteem. Unfortunately, not all of us have the time to assist our favorite seniors with basic daily tasks. Mom's Home Care caregivers are intensely trained to handle all these and other personal care needs for our clients in a respectful yet adequate and reliable way. We'll provide you with a peaceful mind.
If you have any questions, call us today at 323-244-4789 for a free, in-home consultation.