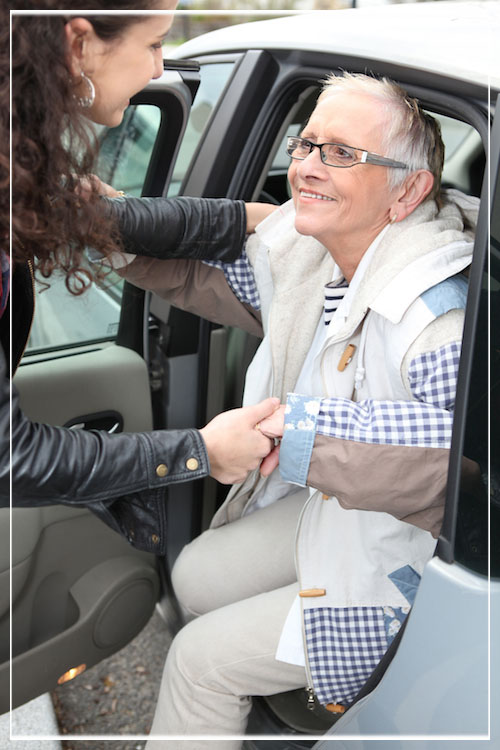 After a certain age, older individuals begin to experience loss of muscle and/or loss of memory which affects the way they go about their day. Certain tasks become more difficult to accomplish and it becomes more difficult to finish a one-day to-do list. Our elderly loved ones experience different complications that arise with age which keeps them from accomplishing important or daily tasks. Mom's Home Care aims to reduce the stress that older individuals experience every day by providing errands and shopping services. Our homecare experts have the capacity to complete most if noall of the tasks on your to-do list.
We understand that getting from point A to point B, walking up and down stairs, getting in and out of a car becomes a strenuous task after a certain age. Our goal is to remove everyday struggles to ensure that our elderly loved ones are protected from accidents that arise when carrying out certain tasks. Our healthcare providers help elderly individuals run a variety of errands from shopping for groceries to taking an automobile to get serviced. We make sure that a to-do list is completed so that no tasks remain undone. 
If you are over the age of 60 or you are experiencing a loss of muscle and/or other complications, and you would like assistance with shopping and running your errands, please contact us today to learn about our errands and shopping services. Mom's Home Care understands that after a certain amount of years or after enduring a debilitating condition, we all could use a helping hand. Our home care professionals will take care of all of your shopping needs and will assist you with certain errands. Our team of qualified home care specialists will ensure that your errands are taken care of in a timely manner and that your shopping is done upon request.
We believe that every person should be treated with the utmost respect while providing our services which is why we practice a high level of professionalism when interacting with our clients. If you are in need of errands and shopping assistant we can help you with the following
- Shopping
- Furniture Shopping
- Cloth Shopping
- Return Merchandise
- Drop-off Gifts
- Taking your clothes to the dry cleaner or tailor
- Running to the drug store
- Running to the postal office
- Car Maintenance and car wash
Errand and Shopping Services
As mentioned earlier, we offer a variety of services that aim to reduce the stress caused by accomplishing certain tasks. We offer the following assistance in the following areas.
Auto Car Wash
Our automobiles become covered in tree sap and dirt after sitting for a couple of days. Whether you park your car in a garage or on the street under a tree, cars need to be regularly washed to remove build up. It is no mystery that a car should be washed at least once a week in order to maintain a shiny coat. In addition, a car wash can go a long way in helping maintain a healthy cover coat which means the paint will last longer. Maintaining a clean car will protect the paint for years to come and will help you avoid a trip to the paint shop which can be costly.
Aside from the importance of maintaining a clean and shiny exterior, it is equally as important to maintain a clean interior. Interior space is where the driver and passengers sit. The interior space will accumulate dirt from the outside causing odors and build up. The dirt will build upon creases and will reflect on the seats, dashboard, and windows. Maintaining a clean interior involves regular vacuuming and the occasional shampooing treatment.
Whether your vehicle needs exterior or interiors attention, our home care specialists are ready to run your car over to a car wash. It doesn't matter if you have one or multiple cars, our home care specialists will ensure that your vehicle or vehicles receive a regular cleaning service. Our specialists will treat your car as their own ensuring that the car is properly cleaned while at the car wash.
Auto Car Maintenance 
Like with the exterior and interior of our vehicles, cars need regular internal maintenance in order to keep on running and operating. There are regular practices that include oil changes, belt changes, routine motor inspections, tire changes, and other types of work that are imperative to the operations of a well-kept motor vehicle. It's like visiting a doctor for a check-up, a car inspection can help prevent a future accident. Accidents that arise from motor vehicle malfunctions can be more expensive than if the problem was taken care of during an inspection.
Oil Change and Oil Filter: As a rule of thumb, motor vehicles require an oil change every 3,000 miles. However, a car may require less frequent oil change which is why you should consult with your car manual or your local auto service center. In addition, there are different types of oils such as fully synthetic, conventional oil, synthetic blend, and synthetic high mileage motor oil. A car expert or car manual will explain the type of oil that is required by your engine. Furthermore, an oil filter should be replaced every other time a vehicle's oil is changed.
Inspection: Checking to make sure that your turning signals are working, that the tires are inflated to the correct pounds per square inch (PSI), that the tires have a good amount of thread, and that the serpentine and timing belts are replaced, are good habits that will extend the life of your vehicle. Inspecting that the basics of a motor vehicle will ensure the safety of the driver and may allow the inspector to catch a problem with the vehicle before a costly accident occurs.
Replacing, balancing and aligning tires: Tires should be replaced every time you see Lincoln's full head. To check if your tires need replacement, grab a penny and place Lincoln's head in a thread, if you can see his whole head, the tires need to be replaced. In addition, you should never have to fight your car to maintain a straight light. If your car is drifting to a side and you find you have to turn your wheel to an angle to maintain a straight line it is a clear indicator that the vehicle needs an alignment service.
Replacing spark plugs: Like with timing and serpentine belts, spark plugs have a long life cycle. However, they should be changed after about 30,000 miles for regular vehicles.
Our homecare specialists will make sure that your vehicle is properly maintained while at the car shop. We will ensure that the check engine light goes off before returning the car home. Our homecare specialists will communicate the needs of your vehicle should there be additional maintenance while at the service center.
Postal Office
If there is an upcoming birthday or special event, many of us choose to send letters or boxed presents if we cannot make the event. We can run your mail to the nearest United States Postal Service (USPS) office or to the local United Parcel Service (UPS) office. Our homecare specialists are trustworthy individuals that will ensure that your package or letter is safely placed in the hands of a delivery service agent. In addition, we can help you set up a pickup service if you wish to personally hand the letter or package to the mailman.
Drugstore
Whether you need to pick up prescription drugs or over the counter drugs, our home care specialists are capable of running to your local Rite Aid, CVS, or Walgreens. Certain individuals take medication every hour and it is important to their well-being to not miss a dosage. We are capable of making runs to the drugstore as frequently as needed. We understand the importance of taking medication on the recommended time interval which is why when we receive a drug store errand run, we are on it immediately. Furthermore, we understand that medical conditions are private matters which is why we practice a high level of professionalism when running for your medications. We make sure that your medical information remains confidential.
If you need a prescription drug picked up or if you need a common over the counter drug, we are ready to make the drive to your local drug store upon request.
Dry Cleaner and Tailor
To maintain a sharp look you need clean and well-ironed clothing. A common washing machine may not be suitable to wash all types of clothing. As you may already know, some clothes need to be dry cleaned in order to preserve the fabric color and size. Clothing items that are made out of wool, silk, velvet and other types of fine materials will usually require the attention of a dry cleaning specialist. We are capable of running your delicate clothing to the dry cleaner as needed or upon request.
In addition, clothing undergoes regular wear and tear. Sometimes buttons need to be sewed back on and other times rips need to be stitched. A tailor can also adjust the size of a shirt or pants that are too long. Whatever the case may be, we can deliver and pick up your clothing from a tailor.
Drop off gifts
If you bought a special gift for your daughter/son, granddaughter/grandson, or another special person in your life and you would like a special delivery, we can help. Sometimes if our relatives live in our vicinity, it does not make sense to mail a package when we could simply drop it off on the same day. Additionally, a precious gift may undergo maltreatment while being processed through the postal service which is why personal delivery is sometimes the best option. Whether you need a ride to a family member home to drop off a gift or whether you would like us to drop a gift off for you at a home or office building, let us know and we can tell you how we can help.
Return Merchandise
We are not always happy with the merchandise we buy after we bring it home which is why customers have the option to return the merchandise and reclaim their money. After purchasing an item, you may find that it is not as pleasant under a different light or that it is the wrong item. If you need to return an item whether it be a clothing piece, tech device, home furniture, and other appliances, we can take care of the task.
Cloth shopping
Buying new clothes is part of maintaining a sharp and clean look. We understand the need for everyone to buy new clothing, but we know that not all of us have the energy to move up and down stairs and in and out of stores. If you need shopping assistance our home care specialists can help you order clothing online or can pick up a delivery order from a store. In addition, if our specialists understand the specific clothing that you are looking for, they are capable of doing the shopping for you.
Furniture Shopping
If you wish to buy furniture we can help arrange a delivery from a local furniture store. Due to the size of furniture, most companies will offer a delivery service on their delivery trucks for a reasonable price. However, if you need a small item that can be found at a local IKEA or furniture store, let us know and if we can fit it in our vehicle we can pick it up for you.
Grocery Shopping
Having groceries in our fridge helps us maintain a personal diet that works for us. If you have a list of groceries that you would like picked up from a store, we can help pick them up for you. We can help delivery any type of grocery food item so long as we have a clear understanding of what is desired. Usually, a grocery shopping list will do the trick.
Running errands and shopping is one of the many services offered by Mom's Home Care. Whenever we run an errand we understand that we are taking care of a personal need. We practice integrity and respectfulness whenever we engage with a personal project. If you wish assistance with the services mentioned above, give us a call today at 323-244-4789.