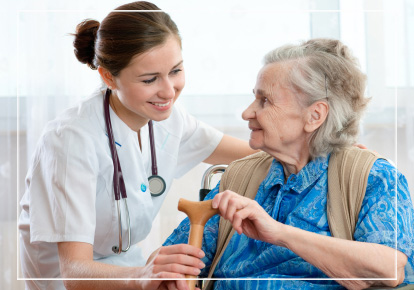 A huge number of Americans are juggling the daily demands of home, children, work, and caring for a loved one who may be disabled, aging, or ill. Managing busy families as well as the emotional decisions that come with caring for your loved one can become overwhelming.
Often, the pressure and demands of providing care can lead to caregiver burnout. This refers to the state of physical, mental, and emotional exhaustion, which occurs when you do not get the help you need while providing care and you end up doing more than you are able to do.
On-Call Nurses Can Help
On-call nurses provide a wide range of nursing services for individuals who are home-bound or physically unable to go to a treatment facility or physician's office. This includes people with disability, long-term illness, or recuperating from major surgery. It can also mainly include senior citizens whose families simply need assistance on an as needed basis. The duties of in-home care nurses extend from taking vital signs (temperature, pulse, and blood pressure) to assessing health needs and progress.
On-call Nursing care services are often a beneficial choice that is safe and affordable for many families. These services ensure that your loved one receives adequate 24/7 care with their recovery or day-to-day activities if they are aged or disabled. Your loved one will appreciate staying at home surrounded by the comfort of their community and familiar surroundings.
On-call nurses also provide you and your family members some form of primary care training that enables you to help out with the care of your loved one when no one else is around. This may be helpful in the event of an emergency situation that requires quick actions. It also helps prevent avoidable incidents born out of ignorance.
The Benefits of Hiring On-Call Nurses
The most important goal of home health is ensuring that ill, disabled, and elderly patients receive high quality, compassionate, and personal care. Mom's Home Care's primary mission is the provision of personalized care services in the comfort, security, and convenience of your home. Below are some of the benefits of on-call nurses.
On-Call Nurses are Present When You Can't
If you are providing care giving from a distance or have a busy daily schedule either at home or work, on-call nursing services can offer you peace of mind. Trained and qualified nurses make accurate assessments of your home's safety risks and make the needed corrections – from recommendations for ambulatory assistance to the placement of a mat on a slippery floor. Furthermore, when medical emergencies occur, the on-call nurse is trained to take care of your loved one.
Access to Nursing Care at Home
On-call nurses are highly trained to offer nursing care at home. This is a huge advantage because your loved one's care needs are supervised by a skilled professional who ensures that their every need is met.
24/7 Care and Supervision
On-call nurses do more than merely helping your loved one heal or go through life. It involves building trust and rapport with you and your patient when you are at your most vulnerable. As a result, on-call nurses spend a lot of time with your loved one and are able to notice any changes in their condition and report the changes to a supervising registered nurse, a doctor, or to you.
Security and Comfort
Easily the number one benefit you or your loved one will appreciate and enjoy from an on-call nurse is receiving care at home. As a senior, you have already grown accustomed to your home for years, and perhaps it's the place you have lived for most of your life. Therefore, being able to spend your golden years at home while still receiving professional care is definitely a huge advantage.
For the disabled and ill clients, there is still no place like home. Staying with your family and friends is a massive boost to your morale and overall health. In-home care facilitates you in remaining as independent and functional as possible, providing you with a much higher sense of dignity.
Medication Management
If you or your loved one is on several prescriptions, it can easily get confusing to manage. On-call nurses can help you come up with a schedule that allows you to keep track of your medications and ensure that you take the right ones at the right times. This will enable you to control your medical condition and prevent any harmful drug interactions.
Tailored Care Services
Since the on-call nurse only caters to you (or your loved one) at home, they are able to offer you tailored care according to your needs, preferences, and wishes as much as possible. In a care facility or a hospital, nurses look after many patients at once and may best retched far too thin sometimes to offer you the proper care you need. Clients who receive one-on-one care at home trust that their care provider knows their individual needs and address them accordingly.
Reduces Re-Hospitalization Rates
In-home nursing care has been known to help in the reduction of unavoidable read missions to hospital. Moreover, patients recuperating from injury, surgical procedure, or illness heal more quickly and successfully when they recover at home as opposed to a medical facility. The primary reason being that an on-call nurse is always on hand to cater to all your care needs, which gives you enough time to rest and recover.
Safety from Infections
Your home offers a safe and clean environment that is free from germs and infections. Your on-call nurse can help sanitize your home and make sure that you do not get any infections during your recuperating period. You stand a higher chance of catching an infection in a hospital or a nursing facility than in your home.
The Love of Family and Friends
At home, you are surrounded by the love and care of your family members and your friends. If you live alone, it is easier for your loved ones to visit you as often as possible to wish you quick recovery, check up on you, or just spend time with you if you are elderly. Knowing that your family cares and supports you is uplifting to your morale.
Keeping Depression at Bay
It is easy to get sad and depressed when you are battling old age, sickness, or disability alone with no one around who cares for you. This is what it feels like for individuals who are hospitalized or are admitted to care facilities. Thus, when you hire on-call nursing services for your loved one, you spare them feelings of negativity that could quickly lead to depression. What's more, your home offers a familiar and relaxing environment that is conducive to recovery.
Benefits for Loved Ones and Caregivers
As a family member, you serve the role of a primary caregiver to your ill, love one, or elderly. Therefore, in-home care from on-call nurses provides you with much-needed assistance and allows you to get back to your normal life. These services also allow you to spend more quality time with your home bound love one.Knowing that a qualified nursing professional is always on call as and when needed by your loved one puts your mind at ease since you are assured that they are in good hands and have round the clock supervision.
Affordable Alternative to Hospital or Facility Care
The cost of receiving care from a nursing facility is higher than the cost of home health care. The National Association of Home Care (NAHC) revealed that the average cost of receiving care at a nursing facility stands at $544 per day while home health care costs average $132 per day. Ergo, home health care is the inexpensive option.
Why Choose Mom's Home Care?
Mom's Home Care is your go-to option when you are looking for competent and professional on-call nursing care for yourself or your loved one. We employ caregivers of different levels of training including Certified Nursing Assistants (CNAs), Certified Home Health Aides (CHHAs), and Licensed Vocational Nurses (LVNs).
Certified Nursing Assistant (CNA): 

A Certified Nursing Assistant helps clients and patients with their healthcare needs. They function under the keen supervision of a Licensed Practical Physician (LPN) or a registered nurse. They are also commonly known as Nursing Assistant (NA). All the CNAs of Mom's Home Care have a strong work ethic and are well-trained to offer in-home care services.

Certified Home Health Aide (CHHA): 

A certified Home Health Aide is responsible for taking care of clients or patients suffering from disabilities or chronic illnesses as well as the elderly who need continuous care while in the comfort of their homes. All Mom's Home Care CHHAs assist your loved one with their daily routine care such as bathing, brushing teeth, eating, dressing, giving medicine, checking temperature and pulse rate, changing their wound dressing, and helping with walking aids or artificial limbs.

Licensed Vocational Nurse (LVN): 

A Licensed Vocational Nurse monitors and assists medical patients. They work under a registered nurse's supervision and must complete at least a year of vocational nursing training to be licensed. They are trained to provide all the primary bedside care that your loved one requires.
All the above professionals can provide you with higher levels of nursing care than other regular in-home caregivers. Although our area of specialty will remain non-medical in-home care, we remain affiliated with several healthcare organizations that we are sure can provide qualified staff members capable of offering any level of healthcare required. Some of these services include:
Pre-op and post-op care
Wound care
Skilled nursing assessment
Catheter care
Respiratory care
Colostomy care
Personal medical care such as oral cavity cleaning or nails trimming
Bowel program supervision
Administering medication like inhalants, eye drops, injections, topical and oral medications
In addition, Mom's Home Care is in a position to call in Registered Nurses (RNs) if and when necessary. We believe in giving you the best in-home care services to make your recovery and life as comfortable as possible.
We have, further, established affiliations with numerous medical offices that can provide different services like those of:
Registered dieticians
Physical therapists
Speech therapists
Mobile physicians
Licensed clinical social workers
Occupational therapists
As you can see, our extensive network of medical and care professionals remains committed to working with us to offer the best quality of healthcare possible for as long as our clients need it.
Mom's Home Care believes that all clients are different therefore have unique needs. That is why we tailor-make all our services to cater to the specific needs and preferences of your loved one. Our main aim remains ensuring that our clients have a high quality of life and have a conducive environment to recover.
Mom's Home Care believes in offering you fast and easy services depending on your needs. Whether you urgently need an on-call nurse today or want to arrange for one, we are ready to help. What's more, we have a flexible staff that can meet you at home, in a nursing care facility, or a hospital.
Falls are the number one causes of home emergencies concerning the elderly, disabled, or individuals recovering from illness. That is why it is a good idea to have an on-call nurse at your service. We maintain an impressive database of qualified and experienced caregivers in Los Angeles that is placed at your disposal when needed.
Mom's Home Care is proud to be the recipient of top industry awards and certifications for our home care services. We have been certified by CAHSAH (California Association for Health Services at Home) as well as by Home Care Pulse. We also have good Yelp reviews and a Best of Home care award for 2017.
For many families in Los Angeles, in-home care offers the support they require to help manage their care giving responsibilities and avoid caregiver burnout. To learn more about on-call nurses and your home health care options, call Mom's Home Care today at 323-244-4789 to talk to us. We have a large team of qualified caregivers who are highly trained to take care of you or your loved one.