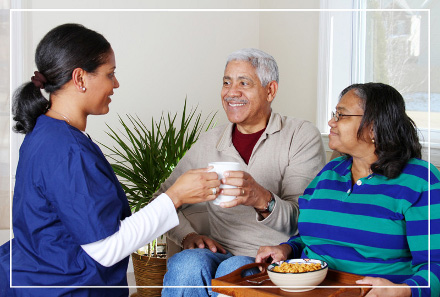 Receiving 24/7 care at home is not only essential but also a popular alternative to living in care homes for people with long-term health needs. This includes senior citizens, the disabled, or individuals suffering from other physical and mental conditions and who need round the clock care.
Of course, given a choice, you would automatically choose to remain in your home while receiving support and medical care. Although, when you are charged with the responsibility of selecting the type of care that you would like your loved one to receive, you would most likely assume that care homes are the only or best option. However, this should not always be the case. This is because receiving professional live-in care at home makes it possible for you or your loved ones to get the professional help and support you require in the comfort of your home.
It holds true that independence, dignity, and choice are important for both the health and happiness of your loved ones. That is why offering them the option of receiving professional live-in care shows them that you love and care for them dearly. Your loved one will appreciate the comfort of remaining at home and in familiar surroundings. What's more, professional in-home caregivers are trained to be compassionate while offering care services.
What is Live-in Care?
Live-in care occurs when a trained caregiver lives at home with you or your loved one and supporting them with their day-to-day needs. They are also on call overnight in case of an emergency. For many clients, live-in care is a lifeline that allows them to maintain their independence while continuing to live at home as opposed to moving into a residential care home or an assisted living facility. Whether it is helping clients with their care, helping out with chores, or moving around the house, caregivers quickly become a rock to clients. This enables your loved one to live the quality of life they want every day.
How Live-in Care Differs from Other Types of Professional Care
Unlike other care provisions available to your loved one such as hourly care or assisted living facilities, Mom's Home Care provides a holistic service because:
Your plan of care, or that of your loved one, is uniquely developed to meet your every need without any rigid set routines or timetables. This allows you to enjoy your time and privacy freely.
Specialist care is provided in your home from professional caregivers who are trained to understand your needs.
Live-in care allows you to avoid the upheaval and disruption of moving from your home and into a care facility to receive round the clock care.
In-home care has been proven to improve both your health and well-being allowing you to live a longer, healthier life.
Live-in care services provide a more economical option when compared to living in care homes. This is especially so for couples who want to remain together.
You can continue living your life surrounded by your loved ones, your community, and other home comforts that you have grown accustomed to such as pets.
What Live-in Care Services Entail
Live-in care services offer the following care:
Companionship Care: This refers to professional non-clinical assistance that is provided right in the comfort of your home. Therefore, you get someone to spend your days with, talk to, and share stories. You also get to spend time with your caregiver playing board games, visiting restaurants, exercising, going shopping, or even watching movies. As a result, you remain an active and productive member of your community.
Personal Care Assistance: This includes toileting and incontinence care, grooming, feeding, and any other personal assistance you require to maintain your quality of life.
Complex Care: Mom's Home Care ensures that every individual regardless of disability, age, or health status, maintains a comfortable and independent life in their home.
Who Can Mom's Home Care Help?
When it comes to your live-in care support, there is no 'one size fits all approach.' This means that the service offered to you or your loved one is created around your specific wishes and needs. Mom's Home Care professionals are assigned to your loved ones based on training, skills, qualifications, and experience. Moreover, personality, interests, and hobbies are also considered when matching caregivers to clients.
Live in care services offered can be provided on a short term or long term basis, which is decided by various factors including your degree of independence, your ability to move, your mental capacity, as well as your personal preference and wishes. Mom's Home Care caregivers are highly experienced and trained in providing care for a range of conditions such as dementia, Alzheimer's, Parkinson's disease, cancer, multiple sclerosis, mobility, Frailty, and palliative or terminal conditions.
What Live in Caregivers Do
Live-in caregivers work tirelessly to provide you or your loved one round the clock care within the security of your home. The caregivers can do one of the following, either move into your home or come daily to provide care. This decision is dependent on your preference as well as your physical and mental condition. Your care assessment determines the level and type of care you require.
Some of your caregiver's duties may consist of:
Light household chores
Assisting your loved one with social activities
Health and hygiene
Administration of your household including the payment of bills
Cooking and nutrition
Arranging doctor's appointments
Promoting and administering medication
Offering specialist care for complex medical conditions
Running errands like food shopping
Overnight care
Pet care including feeding and walking them
The Benefits of Hiring Live in Care
It is entirely reasonable to have doubts or reservations when it comes to hiring a live-in care professional for your loved one. This is because you may experience mixed feelings of guilt and concern over passing off responsibility to a stranger. Below are benefits that you and your loved one get when you hire live-in care.
Your Loved One Remains at Home
Perhaps the biggest benefit that your loved one gets from live-in care is that they get to remain at home and in the environment that they love. Living in a familiar environment is uplifting for everybody let alone a loved one who cannot adequately take care of themselves. They wake up in their bed and do every other daily activity in familiar surroundings.
Avoiding Change
Your loved one's daily life remains mostly the same when they receive care at home. The only difference is that they have extra support from a qualified individual trained to offer specialized care. Many people don't like change once they have grown accustomed to their present living situation.
Maintaining Hobbies and Interests
Receiving care at home allows your loved one to continue their hobbies like drawing, bird watching, painting, or cooking, but only when it is safe to do so. If you are a senior citizen, you can relax in your yard and watch the neighborhood children play or even read a book. Maintaining familiar routines is suitable especially for seniors or individuals with mental health conditions.
The Comfort of Family and Friends
If you live with your family or a friend, receiving live-in care allows you to continue enjoying their company every day. This daily interaction is good for uplifting your spirit and offers you the peace and tranquility of knowing that you are cared for and loved. On the other hand, if you do live alone, your family and friends can still visit you as often as they want without first making formal appointments as in the case of an assisted living facility.
Companionship and Emotional Support
Many caregivers end up becoming more like your friends over time. This is because they spend most of their waking moments with you talking, laughing, sharing stories and memories, playing board games, and watching television. The bonds forged become strong over time and allow you or your loved one to feel close and connected to someone.
Remaining Close to Your Community
Loneliness easily triggers negative thoughts and feelings that are detrimental to your health. The daily interaction with a live-in caregiver allows you to remain connected to someone else and enables you to stay actively engaged in your local community by attending neighborhood activities like meetings or barbeque parties.
Maintaining Mental Acuity
Due to active social lifestyles and busy daily schedules at school and at work, you hardly get to spend as much time as you want with your aging or disabled loved one. As a result, the lack of social interaction leads to cognitive decline, stress, or depression. Hiring an in-home caregiver provides the necessary interaction and communication needed by your loved one to remain aware, healthy, and stimulated.
You Remain Connected to Your Loved One
More often than not, your busy schedule prevents you from noticing small (or sometimes significant) changes with your loved one. Since a caregiver's primary role is looking after their client, they can discern and offer insight into what your loved one is feeling as well as their well-being.
Avoiding Depression
Aging, disabled, and otherwise physically and mentally challenged individuals already feel isolated from other people because of their condition. Therefore, they are prone to depression, which is exacerbated by institutionalization. Live-in care goes a long way in ensuring that your loved one does not fall into depression.
Flexible Care
Mom's Home Care adapts to provide you or your loved one the care they need. Appropriate care is provided if your function deteriorates meaning that you need more assistance with self-care, you become incontinent, or require tube feeding.
Choice and Control
Hiring a live-in caregiver allows you to first meet them for a trial session before committing. You gauge their experience, training, as well as their professional and personal behavior. This allows you to know whether they will get along with your loved one.
Pets Allowed
Pets are a fantastic choice for companionship because they help keep you healthy and happy. In-home care allows you to live with your pet as opposed to living in a residential care home where pets may not be permitted.
Why Select Mom's Home Care?
Mom's Home Care ensures that your loved one receives round the clock care and presence from a qualified caregiver, which provides clients with a sense of security. We offer personalized care plans designed to meet the specific needs of our clients.
We understand that each person is different; ergo, our clients' health care needs are not similar. We cater for a range of client needs from those who require very little care to those that need constant supervision and everybody in between. Also, our flexible staff is trained to arrange for doctor's appointments and offering first aid.
Our live-in care service program caters for clients who require round the clock supervision at day and night. We have affordable rates that are also available at discounted prices. Our goal is going above and beyond in providing quality care and ensuring our clients are as comfortable as possible in their homes.
Mom's Home Care has received numerous industry certifications and wards as a testament to our quality service delivery and professionalism. Our certifications include Home Care Pulse and CAHSAH (California Association for Health Services at Home). We also have excellent reviews on Yelp as well as a top Caring Star Agency rating.
When someone you love and care for no longer copes at home alone, it can become stressful especially if you are resistant or frightened to the idea of assisted living facilities. Therefore, the better alternative available to you is live-in care, which allows your loved one to remain at home and still receive professional supervision and care.
At Mom's Home Care, we create uniquely tailored care plans that meet your specific needs or those of your loved one. Thus, services provided by our caregivers varies with every client. If you are searching for high quality and professional live-in care services in Los Angeles, California, call us at 323-244-4789 to talk to one of our care advisors or schedule an appointment.