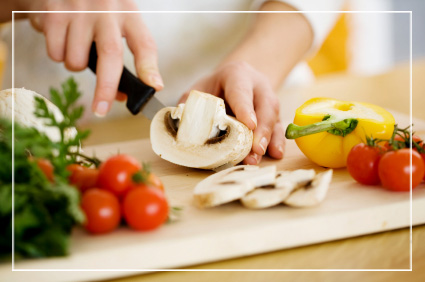 Healthy eating is of the utmost importance, especially for seniors.  As we age, our bodies lose lean mass and need more nutrient–dense foods. A lot of elderly people are not eating balanced diets, resulting in the development of new or worsening of existing medical conditions and malnutrition. Meal planning and preparation can be a lot of work for the elderly and disabled patients. Many find it easier to eat junk food than prepare a meal with carefully picked out ingredients because they lack the strength to cook or are simply unable to go to the market, buy, and carry all the groceries. Taste and smell start to diminish so many find themselves reaching for extra-sweet foods or the salt shaker more often.
Conversely, due to medical issues, many don't have an appetite, not all food agrees with them, or are not able to eat enough to meet their nutritional needs.  For instance, a person may experience a decrease in taste and smell receptor activity as a side-effect of medications and this means that food is less appealing as it doesn't taste like it used to.  At a time when they should be getting more nutrients, many seniors turn to eating frozen meals, high-sodium canned goods, or snacking. Those who suffer from memory loss may not realize when food has expired.
When it comes to nourishment and good nutrition, even small things can make a big difference. At Mom's Home Care, we step in and help in the kitchen when needed.  We prepare wholesome meals to meet nutritional and dietary needs. Our experienced and skilled caregivers know how to prepare food that's more flavorful without compromising the nutritive value. We help your loved one find the strength and desire to eat.  Consequently, he/she will regain their appetite and regain strength and vitality. And if he/she requires a special dietary regime, we can accommodate that and support a healthy home environment. We work closely with you to devise a plan in advance and ensure that your loved one gets proper nutrition.
Our meal preparation services include:
Meal Planning
Understanding what foods may or may not be cooked can play a crucial role in maintaining a healthy lifestyle for loved ones who are not able to provide themselves the balanced diet recommended by their healthcare providers. Our goal is to work with our clients and their families to develop meal plans with all the proper food groups necessary in the diet. Some aging adults tend to get pickier about what they eat. This could mean that they don't feel as if they have a lot of variety in what they eat. Managing this calls for rotation of recipes so that every day isn't the same old thing. We can plan meals and tailor the plans to any medical conditions your loved one may have such as high blood pressure and diabetes, and follow dietary guidelines to promote a healthy eating habit. Share your menu wish list and we'll help make your culinary dreams come true.
Dinner Companion
In addition to meal planning, mealtime feeding may be another needed element of maintaining nutritional health. Sometimes the factors that cause malnutrition are of a psychological nature. For instance, stress, depression, dementia, and anxiety, among others, can contribute to the loss of appetite and significant weight loss. Physical dexterity and mobility are also factors that lead to lower consumption rates. In some other cases, clients simply resent preparing meals and eating alone, so they tend to eventually abandon the efforts to incorporate a healthy meal or eat at all. Assistance in feeding and maintaining the intake of food and fluids plays a major role in maintaining a healthy weight.  
Our caregivers take these factors into account and make efforts to turn everyday meals enjoyable, even sociable experiences for the client. Creating a warm, enticing atmosphere with the smells of cooking and companionship encourages your loved one to eat real, whole foods for breakfast, lunch, and dinner. Our in-home meal preparation assistance also gives your loved one someone to talk and gives them a sense of care which can go a long way towards staving off elderly depression.
Grocery Shopping
Making dietary and lifestyle changes can have a profound effect on your loved one's health. They want to be mobile, flexible and as well feel great for as long as possible. One of the best ways to achieve this is to be mindful of what products are going in the grocery cart. However, basic chores such as going to the grocery store can become overwhelming with time. Some individuals simply do not have the energy or strength it takes to do grocery shopping. Your loved one may be a great chef with a love for meal preparation and cooking for family and friends. But the time it takes to make a grocery list, drive to the store, pick out all the items, walk around a store with a full basket or shopping cart, pay for them, bring them home, and store them appropriately can be mentally and physically exhausting.
Our caregivers are able to come up with a shopping list, help clients do the grocery shopping, and keep them in the fridge. The caregiver can also go with your loved one and encourage him/her to engage in a different activity and get some fresh air. This also ensures that your loved one's meals are prepared with the fresh, quality ingredients. Frozen meals offered by home food delivery services simply can't compete with a fresh, home-cooked meal.
Dietary Restrictions and Modifications
It's not uncommon for seniors to become in nutrients and vitamins as they age. For example, calcium and Vitamin D are extremely important minerals. If an elderly person is not getting enough of these vitamins, they could end up with serious health complications. To ensure that optimum health is maintained, a diet that's rich in the specific nutrients that certain patients may be lacking. Leafy greens, citrus, fruits, and other recommendations may be incorporated in the meal plan in an effort to create an abundance of the vitamins that were previously missing. In some cases, clients may be taking prescriptions that come with dietary restrictions. Specific foods can interact with the efficiency of medications and may need to be avoided. It can be tricky to omit one's favorite foods while still eating delicious meals. For this reason, many seniors choose meals that are easy, quick, and often lacking in nutrients instead of creating a healthy meal that abides by these dietary restrictions. While frozen meals may taste all right, they don't provide the nutrition seniors need to thrive.
Meal prepping is easier than ever with the help of an in-home caregiver. Rather than simply preparing healthy meals, care experts will be deeply involved in the nutrition of the client. Your loved one will be included in the planning process, ensuring that they're happy with the choices. Whether your favorite senior needs to eat more vegetable or has dietary restrictions, with the help of Mom's Home Care, you can find a caregiver who can create a diverse diet plan with a wide variety of healthy foods. Minor adjustments can also be made if deficiencies are discovered to ensure your loved one gets the nutrients he or she needs. So, if your loved one has certain allergies, is diabetic, or has any other health restrictions, our caregivers will prepare meals designed with their specific dietary needs. We also monitor food and liquid intake to ensure that all nutritional requirements are met.
The Importance of Meal Prep in Caregiving
Reduces the Risk of Kitchen Catastrophes
Cuts, falls, and other household accidents can happen in just about any room, but they're especially common in the kitchen. Overhead cupboards, dull knives, slippery floors, and dealing with a hot pan are all serious safety risks for seniors deteriorating cognitive abilities and motor functions. This can happen with seniors suffering from Alzheimer's or dementia or can be as a result of bad experiences as they may have accidentally injured themselves or may have forgotten to turn off the stove. Even if your loved one would like to play a direct role in food preparation, a skilled caregiver in Los Angeles should be by his or her side at all times to make it easier and safer.
Helps with Portion Control
Irregular eating is one of the most common side effects of dementia-related disorders such as Alzheimer's. While failing to eat enough can be a dangerous habit, overeating can often be just as harmful. By assisting with food preparations, our caregivers are able to track changes in a client's diet. A caregiver who prepares meals beforehand can have much more control over your loved one's exact caloric intake. Excessive fluctuations can be documented and evaluated to see how it compares to the amount of food they actually consume.  Minor adjustments can be made if a senior loses or gains too much weight.
Creates Easy-to-Follow Routines
A planned daily meal routine can provide a senior with a wide variety of benefits, including increased feelings of safety, a better and healthier sleep cycle, and reduced anxiety. Unfortunately, such benefits can't be achieved if one is being rushed to get meals done at the last minute when your loved one is hungry and the blood sugar is dropping. Meal prepping ensures that food can be eaten at the same time every day.  
By having your aging parent's meals taken care of, you won't have to worry that they are not getting all the necessary dietary requirements and necessary supplements. Also, you don't have to stress over them carrying out their daily activities at home alone because a caregiver will be there to ensure that their needs are adequately met safely.
Allow Senior to remain at Home
During their golden years, many seniors want to remain in their home to maintain their lifestyle, dignity, and independence. Meal preparation helps your loved one maintain independence while still making sure that they continue with a healthy lifestyle.
Friendly In-Home Cooking for the Elderly
Our clients and their loved ones have seen the results from Mom's Home Care meal prep services. Those who frequently fell ill and lacked energy or had simply lost interest in anything but chips and ice cream are now enjoying their healthy meals and feeling so much better. Our caregivers will lovingly prepare meals based on the client's culinary favorites and most coveted snacks too. Your loved one's nutrition is as important to us as the meal satisfaction and that's why Mom's Home Care gives provides seniors with the option to enjoy foods that match their nutritional requirement, food preferences, and special dietary needs while still tasting delicious. Cutting back on salt and sugar? On a kosher or gluten-free diet? No problem! Our caregivers are well-educated with a deep knowledge on meeting the dietary needs of the elderly.  Rest easy knowing that your loved one can enjoy home-cooked breakfast, lunch, and dinner with a heaping spoonful of care and a dash of goodness.
When you call our office, we ask questions to form a basic needs assessment, understand your loved one's specific dietary needs, develop a custom meal preparation plan, assign a caregiver, and make sure arrangements are made accordingly. We're dedicated to helping your loved one to enjoy their meals, stay healthy, and feel great right at home.
Contact Mom's Home Care for Meal Preparation
If you're concerned about your aging loved one getting the right and required number of properly-portioned nutritional meals, Mom's Home Care can help. We'll provide him or her with the appropriate nutritious nourishment that is necessary to keep them strong and healthy. Whether you need live-in and/or on-call meal preparation services, we're just a call away. For over 30 years, Mom's Home Care has been serving clients in the L.A area in a compassionate, non-intrusive way.
We practice integrity and respectfulness and have built a solid reputation for skilled meal preparation. We stand ready to answer all of your questions regarding this and other services we offer.  We're open to in-home consultations to help you understand who we are and how we can help your elderly Mom, Dad, or other loved one. The staff at Mom's Home Care works closely with our clients and their families to collectively devise a person-centered meal plan and provide the highest quality of care that will allow our clients to continue thriving in the comfort of their home.  Give us a call at 323-244-4789 to learn more about our meal preparation services in L.A.