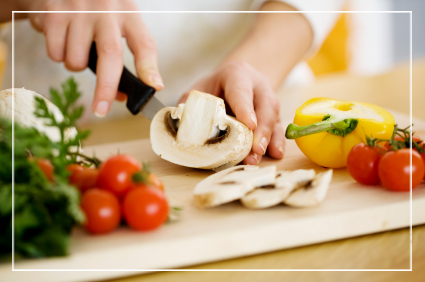 One of the biggest concerns for seniors is eating nutritious meals. As a person ages, it becomes more difficult to prepare meals. In some cases, due to medical issues, a person may lose their appetite or not be able to eat enough to meet their nutritional needs. The staff at Mom's Home Care are able to help with meals and monitor their client's food intake to make sure they are getting the nutrients they need to remain healthy. An elderly person's metabolism slows down as they get older. Their nutritional needs change according to their health and activity levels.
Our caregivers are able to help prepare healthy meals and assist with the clean up. They can prepare vegetarian and kosher meals for their clients who desire them. Caregivers are able to help with tasks that a client may not be able to perform anymore due to arthritis or other health problems. This allows clients to enjoy home cooked meals of their own choosing. Our staff members offer assistance with
Menu planning
Dietary restrictions
Monitoring food and liquid intake to make sure nutritional requirements are met
By assisting with meals and basic food preparations, our caregivers are able to track changes in their client's diet. They can document excessive weight gain or loss and how it compares to the amount of food they actually consume.