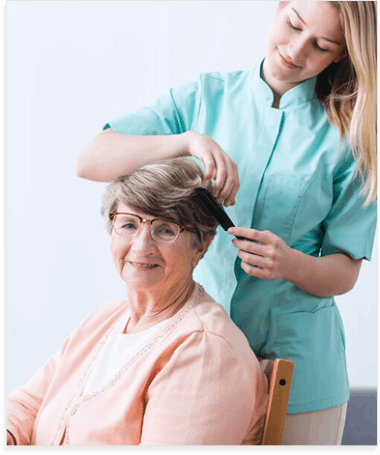 As our loved ones age, it becomes harder for them to do the simplest daily tasks. Even though it isn't easy to admit, this is the time they need at home care. Since they have been there for us, it's only fair for us to be there for them as well. It may be quite hard to take care of loved ones since we have our jobs to maintain as well as meet other individual obligations. However, you can hire caregiver services for them. That is where you, the caregiver comes in. As it is the norm, one would want to know about the experience and credibility of the caregiver they are going to entrust with their loved one. Caregivers at Mom's Home Care in Los Angeles undergo an effective caregiver screening process and receive professional training on how to care for elderly clients. Read on to find out more about our caregiver benefits.
Be Part of Our Team!
Being a caregiver is more of a calling than it's a career. In addition to being trained, you have to be a unique person to take care of persons that have aged. Mom's Home Care is looking to hire caring, compassionate individuals to provide individual attention to people that would want to live in their residences for the longest time possible. We aim to provide experienced, quality, and honest services to our clients.
Mom's Home Care prides itself in offering quality full-service elderly care in the whole of Los Angeles and beyond. If you qualify, you would be part of a friendly, professional, and patient team of caregivers. We encourage caregivers who want to be part of our team to feel free to send us their application.
Caregiver Benefits
Our schedules are flexible
We understand that caregivers also have lives outside their profession. Thus, as we work with you in trying to maintain our busy schedule, we also ensure that you have ample time to rest and get refreshed to take up new duties.
A higher pay
We understand that caregivers also have lives outside their profession. Thus, as we work with you in trying to maintain our busy schedule, we also ensure that you have ample time to rest and get refreshed to take up new duties.
Reliable paychecks
We have an orderly billing department that pays caregivers every two weeks all the time. Direct deposits are also available.
Caregiver-client matching
We make sure to match a caregiver with the right client. We put the skills of each caregiver into consideration, as well as the preferences of our clients. We try to match caregivers to duties that suit their schedules. We try to reduce the travel distance to at least 10 miles.
We conduct yearly state-required training
This training is fully paid for by us. We pay for the mandatory 5-hour training a year.
An orderly office staff
Our caregivers can access the care managers 24/7, and effective management software where they can view their shifts and client details.
Other benefits
Our caregivers get to enjoy benefits like gift card giveaways, employee of the month award, scan reimbursements, monthly raffles, 401k retirement, and referral bonuses. Employees that work full time receive health insurance benefits. Even better, by working with us, you will get a chance for advancement in your career and an opportunity to get referral bonuses.
Application Requirements
To qualify to apply for a caregiver position at Mom's Home Care, you should have the following requirements:
Two (2) years at the minimum, of confirmable experience working as a caregiver.
Valid work authorization and ID
TB clearance
Dependable transportation, and
A high school diploma.
If you qualify for this position, we will need you to:
Agree to a TB test, a live scan, and background clearance,
Complete our agency's training program successfully, and
Register with California state as a home care aide.
Mom's Home Care takes its hiring process very seriously. This is because we do not want to put our services at risk by hiring incompetent or inexperienced staff. We hire experienced caregivers who are capable of communicating clearly and who can represent themselves as well as the company. To be sure of such an employee, we conduct a screening process that includes multiple steps. The following are the steps:
A Thorough Application Process
We will need more than an ordinary resume when assessing caregiver suitability.  We would want to find out significant aspects like individual characteristics, reasons for applying, and experience with other companies. After your application has been reviewed, we will invite you for one-on-one interviews.
Extensive interview process
After the approval of your application, we will set up the first interview, which is aimed at evaluating your answers. It helps us have a good understanding of the caregivers' characteristics before signing them. Other interviews follow this interview, so we get your different outlooks.
During the interviewing process, we consider several aspects, which include your communication skills, presentation, and experience. We also assess and record your character traits to ensure the caregiver-client match is ideal. For you to be considered for an interview, you have to prove to have compassion, and also a person upon whom people can depend.
Validating your experience
The ideal method we use while evaluating your character is to obtain information from several of our references. We contact the people that know you both personally and professionally to verify the information you provided. If you have previously worked as a caregiver, we will contact the agency or agencies you have worked with and the people to whom you have tended.
We would require at least three personal and three industry-specific references. The references have to be 100% substantiated.
Substantial background checks
Conducting background checks is an essential process of hiring our caregivers since we believe that past behavior is a good measure of future behavior. Since you will work unsupervised with the elderly, we have to make sure that you are properly vetted. During our background checks, we verify the following things;
A valid California ID card, driver's license, or passport
A valid social security card or work authorization
TB test and general physical health
Drug testing
DMV driving history
A valid BLS card or CPR
A valid BLS card or CPR
Skills assessment
Caregivers must show that they have got the skills needed to perform assigned tasks. Our skill assessment process includes giving you a comprehensive Mom's Home Care exam or a live hands-on demonstration. Our exam is aimed at testing your knowledge and comprehension of essential skills to do with home care, the needed reasoning skills, and the process of aging. You should possess the following skills;
Skills to solve problems
Skills to do routine maintenance
Do It Yourself skills to do minor repairs at home
Health, security, safety issues, and hygiene awareness
A GCSE in Mathematics and English would be an added advantage since some clients may prefer caregivers with these qualifications. You also must possess basic computer skills or have a driver's license for you to land particular jobs. If you have the needed skills in security, maintenance, gardening, cleaning, and plumbing, your chances of consideration are high.
Special caregiver orientation
After you have met all our requirements, you will take part in our specialized caregiver orientation and be introduced to our culture. You will also have a chance to review the requirements of the state and national standards concerning home care procedures and policies. We provide courses on client safety, home care, and client rights regularly.
Our Caregiver Duties and Responsibilities
Companion care
In providing primary care, you will offer services like meal planning and preparation, laundry, light housekeeping, companionship, and other general help. When it comes to sitter services, you are expected to sit with clients and monitor them during their stay in the hospital. You may also be expected to accompany clients home to offer assistance in their recovery.
Personal Care
In our advanced care, we expect a caregiver experienced and professional enough to provide personal care services. In addition to basic companionship, you will need to assist in daily life activities like bathing, grooming, dressing, ambulation assistance, and toileting. We will assess the services and monitor you regularly through our care coordinator on site.
Transition assistance
It may be challenging for our clients when their member of the family has been discharged from the hospital. We understand this, and that's why one of the duties is for you to guide our clients through outpatient surgery as well as the recovery period. You will be expected to help before the surgery and be with the client through every step of the whole process of recovery, which includes transportation for doctor check-ups.
Live-in care
We hire caregivers that are present to offer 24-hour services when called upon provided they sleep for 8 hours a night and get the appropriate breaks. We provide live-in care for at least two days, successively up to seven days a week indefinitely.
Sitter assistance
One of the duties you will be required to take up includes monitoring clients in nursing homes, hospitals, continuing care retirement communities, and assisted living centers. You are supposed to be present when a client's family are not.
Visits for peace of mind
We have a unique peace of mind visit program. This is a brief visit every day to assist clients with meal preparation, bathing assistance, getting into and out of bed, check-ins, and medication reminders.
Live-in care
This is a unique program to help families by caring for their loved ones for a short time, for example, while in vacations.
Errands and shopping
If there are daily, weekly, or monthly chore that our clients need to run and are not able to do them by themselves, we will come to their rescue. If need be, you will be required to help the client drive or walk, do grocery shopping and other stuff they need. Other duties include picking up letters from the post office or picking food from the restaurant.
Medication reminders
Even though we provide non-medical care only, we also help our clients in medication reminders and management. For instance, maintaining a client's pill-box and documentation of the dispensed medications. If need be, you will need to write down the side effects that may arise. However, we don't administer invasive medicines, change IVs, or give injections.
Live Monitoring of caregivers
Every one of our clients looks forward to a caregiver that reports to work on time and be available when needed. Thus, we expect you to be timely and always prepared to attend to clients within a short time's notice.
Mom's Home Care has a caregiver live monitoring system which helps us in real time monitoring of caregivers. This program enables you to sign in and out with a refined phone system. Thus, we can truck the hours you worked and your record of attendance.
Apart from tracking, the software also helps us in ensuring our clients have the assistance they need during their scheduled time. The main aim is to ensure you are at the required place at the right time. We make calls to both the caregiver and client to ensure everything is running smoothly and our clients are receiving the care they requested.
Our sophisticated technology minimizes manual documentation. Additionally, it simplifies the process of billing and allows our caregivers much time to be with the clients and little on documentation. Our software enhances the home office and caregiver communication.
Work with a Reputable Caregiving Company Near Me
Mom's Home Care is an in-home care agency that is recognized nationally. Home Care Pulse recently awarded us an Employer of Choice award. We also received a Lender in Excellence award that is awarded to the top ten percent of agencies in the United States. We need to hire CNA's and caregivers that want to take on a full-time job. We serve clients in Los Angeles, West LA, South Bay, Beverly Hills, and Marina Del Ray. Our pay rates are higher compared to other agencies.
Additionally, our full- time employees get to enjoy the many benefits we offer. Our clients adore us, which is why we have great reviews. If you would like to apply for a position at Mom's Home Care, please call us today at 323-244-4789, apply directly, or view available jobs below.
Zip Recruiter – (https://www.ziprecruiter.com/candidate/search?search=hiring_company_id%3A%22de8dbb62%22)
Indeed – (https://www.indeed.com/cmp/Moms-Home-Care-2/jobs)
Glassdoor – (https://www.glassdoor.com/Overview/Working-at-Mom-s-Home-Care-EI_IE1704522.11,26.htm)
To apply please email us your resume or click on the link below to submit your information: