Social distancing due to the COVID-19 virus is difficult for everyone. It can be especially hard for older adults who are living alone. Being unable to spend time with other people can be boring and have a negative impact on your aging relative's mental and emotional health.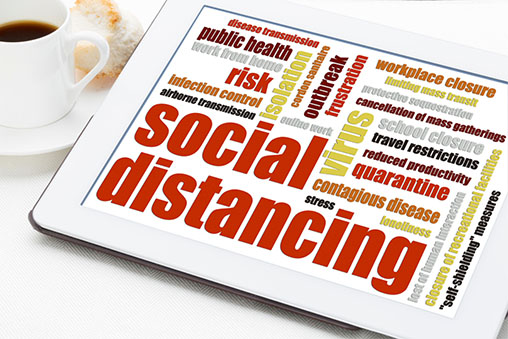 While you may be unable to visit your loved one, senior care can continue to visit and ensure seniors have the help they need and the companionship that will keep them happy during these difficult times. And, rest assured, senior care providers are taking all the necessary precautions to keep your older family member safe and preventing the spread of the virus. Below are 4 ways senior care can help during social distancing:
#1: Running Errands
To keep from getting the virus, seniors have been instructed to stay inside their homes as much as possible. However, there are still errands that they need to run to keep their homes running and get the things they need. A senior care provider can drive to the places they need to go, such as the pharmacy or to pay a bill. The older adult doesn't even need to get out of the car because the senior care provider can run into the building for them, protecting them from germs.
#2: Getting the Mail
Depending on where your aging relative lives, getting the mail could expose them to the virus. If the senior lives in an apartment building with a shared mail room or has to go to a post office back, they could come into contact with all sorts of germs, including the COVID-19 virus. A senior care provider can pick up the older adult's mail, using disinfecting wipes and hand sanitizer to ensure they do not come in contact with the virus or transmit it.
#3: Transportation to the Doctor
If your loved one has a medical condition for which they need regular medical care, a senior care provider can help them get to their appointments. Senior care providers can drive them to the doctor's office and sit with them while they wait for their turn.
#4: Preparing Meals
Family caregivers who usually make meals for their older family members may be unable to visit them during this period of social distancing. Rather than worrying that the aging adult is not eating well or going hungry, you can ask senior care to prepare meals for them.
If you or an aging loved-one are considering hiring Home Care Services in Sherman Oaks, CA, please call Mom's Home Care and talk to our friendly, knowledgeable staff. Our number is 323-244-4789