Self-quarantining is a safe decision for your senior during the coronavirus pandemic but being at home that much can cause her to lose track of some of her goals. Staying active, especially if your senior has already gotten benefits from moving more, is really important. These ideas can help her to get some more movement in each day.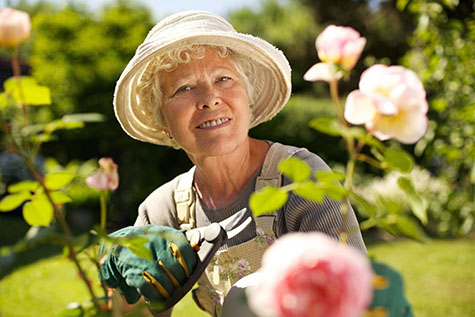 Just Get up and Move
It sounds overly simplified, but just getting up and moving can be an important way to get or to stay active. Your senior doesn't need to do anything fancy, either. She might start doing things like standing up if she's on a phone call, for instance, which helps her to move around and to burn a few calories. Simple stretching routines, or doing actual yoga poses, a few times a day can also be really helpful.
Light Housework Is One Idea
Light housework is something that your senior can do that hopefully doesn't take too much energy, but also helps her to move a bit more and also helps her to feel as if she's getting something done. She doesn't need to do anything heavy-duty at all and she doesn't have to clean the entire house all at once. She might decide to dust one room, for instance. This can help her to stretch and bend a little as she moves around.
Set Some Timers
It's really easy for your senior to lose track of time when she's self-quarantined. Even when she's sticking with her routines as well as she can, time can slip away really fast. One way to manage that is to set timers and reminders throughout the day to help keep up with how the day is passing. The timers can help her to remember to get some extra movement in.
Keep up with Other Healthy Habits, Too
If your elderly family member is already doing some things that help her to be as healthy as possible, like eating balanced meals, then keeping up with those habits is important for her to do. Those habits also fit in with her existing routines and can keep her on target with her goals, even during a time when she's self-quarantining.
Staying active may be more difficult for your elderly family member if she has mobility concerns. Senior care providers can be there for her to ensure that she's got the help that she needs when she needs it.
If you or an aging loved-one are considering hiring Elder Care in Santa Monica, CA, please call Mom's Home Care and talk to our friendly, knowledgeable staff. Our number is: 323-244-4789