Parents play an integral part in our lives, and when they suffer from chronic illnesses or an injury that leaves them in a position that requires constant care, you will have to check several options to come up with one that best suits you. Juggling your work, children, home, and taking care of an ailing parent can take a toll on you and your family. Managing your family, work, and making critical decisions can overwhelm you.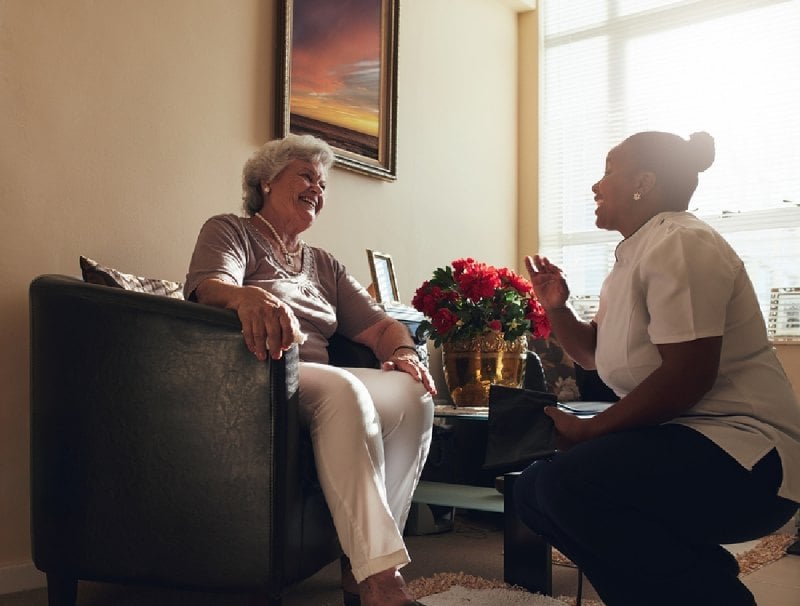 You could be living far away from your parents and want to participate in their daily lives. The pressure and demand of providing the necessary care could wear you down, leading to poor health or slow recovery. When you decide as a family to engage the services of home caregivers, you will have quality time with your loved one and enjoy much-needed peace of mind.
Home-based care will help your family have a good and comfortable life even when faced with a challenging medical condition. There are other benefits of hiring a home caregiver, and they include and are not limited to:
Home Caregivers Help In Uniting Your Family
When you hire a home caregiver, the interaction between them and your family will help unite your family. You will be more involved in the day-to-day activities of your loved one. Home caregivers encourage communication between your parents, you, and other family members, which will go a long way in uniting your family. Sometimes, parents keep certain information regarding their medical situation from their children to avoid burdening them.
A home caregiver can assess the case and let you know how your parents are doing. they will know when your parents are lonely and offer them companionship. A caregiver will then let you know, which will unite your family. You will realize that you may fail your parents when you hold back as you are afraid of overstepping, but they will let you know when you are overstepping with a caregiver.
One of the most complex parts is watching your parents lose their independence. When you are considering care options for parents, you will realize that their sense of independence plays a significant role. When you consider home care as an option, your parents will be in a position of being in control of their life. Home care is especially beneficial if your parents have started losing their cognitive abilities. It helps reduce the rate at which they lose their memory. Most seniors are afraid of leaving their homes for assisted living, and this worry is no more with home-based care.
A professional caregiver will help your loved one continue living comfortably and maintain their social life at home. Home care ensures that your loved one retains their independence. They choose when to eat, sleep, wake up, and even conduct their social life. A home caregiver will even drive them to some of their social events, ensuring they have more independence.
With a home caregiver, your parents will continue living their lives without much disruption on their daily schedule. This independence will help them recover quickly and support their family and friends. If your parents can no longer drive, you do not have to worry as a home caregiver can drive them around. Your parents will retain their independence as they can do their shopping at their leisure without waiting for the family to do so. Sometimes, all that your parents require is extra support to continue enjoying their lives. A home caregiver helps your parents boost their self-confidence, which goes a long way in improving the quality of their lives.
It's Cost-Effective
The cost of hiring a home caregiver is much lower compared to a nursing home. If you want the caregiver to help part-time, you will find that their rates are much lower as you will be charged hourly. When necessary, one cost-effective way of going to the hospital is that a home caregiver will delay or prevent unnecessary hospital visits. You will realize that with a home caregiver at home, they will assist your parents and avoid falls that play a huge role in hospital readmissions. When you hire a caregiver on a need-only basis, determining the time they will come for a couple of hours in a day will significantly lower your cost.
Your Family Will Enjoy Professional Care
A trained home caregiver will make life simpler for you and your parents in ways you never knew you could. A home caregiver is trained to look into any situation and develop viable solutions to make life more comfortable for your parents. With their training and experience, a home-based caregiver can predict your family's needs even before they arise.
You Will Enjoy Peace of Mind
When you realize that all is not well with your parents, it will be impossible not to worry. Engaging the services of a home caregiver will ease your mind, knowing that your loved one will enjoy one-on-one professional care. Sometimes your parents will benefit more from a professional caregiver than when receiving care from a family caregiver.
They may find it easy to confide in a home caregiver without feeling like burdening them. Additionally, your parents will retain their dignity with a professional home caregiver at home. Though you want the best for your parents, they may find it challenging to let you know what they want as they do not wish to burden you, but this is not the case with a professional caregiver.
Your Will Enjoy Several Services
Home caregivers are flexible and offer several services to ensure your loved one leads a comfortable life. When a home caregiver assesses your parents' home situation, they can develop an action plan to ensure your parents are comfortable despite their illness or injury and your family spends quality time with them. Some of the services that you and your loved ones will enjoy when you bring in a home caregiver include:
Depending on your parents' health circumstances, a home caregiver may offer to help with meal preparation. This is especially useful if your parents have lost their appetite, forgotten to eat, or are on a strict diet.
A home caregiver's primary duty is to ensure your loved one has a quality life. They will help your parents with some light duties and sometimes they may carry them out with your parents.
Helps Your Parents To Recover Quickly
You may hire the services of a home caregiver after you or your loved one suffers from an injury or a chronic ailment. Research shows that the recovery rate at home is much higher than at a health facility. This is because they will recover surrounded by loved ones and a familiar place. Home caregivers will develop a personalized plan unique to you or your loved one.
With this unique health care plan, a home caregiver can dedicate more time to your loved one who works at ensuring quick healing. Home Caregivers ensure that your loved one is not in pain or reduces their pain level and at the same time offers a flexible environment to recover at their pace.
When you are receiving healing surrounded by your family, and at your home, your chances of a quick recovery are much higher. Additionally, receiving treatment at home helps at reducing the chances of hospital readmission. Having a home caregiver who will assist your loved one with their daily chores, offers companionship, and ensures you take your medication on time is crucial to a quick recovery. This will lead to less time spent at the hospital, and you can concentrate on your work knowing that your loved one is in good hands.
Offer Respite Care To Full-Time Family Caregivers
If you are a full-time caregiver to your parents, you will need a break to recharge. It will not help your parents if you suffer burnout due to the emotional and physical toll that comes with full-time caring. A home caregiver will come to relieve you for some time, and this will allow you to take care of your business and relax at the same time. Having an experienced caregiver taking care of your loved one allows you to recharge. When you return to your caregiving duties, you will be in a better place to assist your loved one. 
Home Caregivers Can Make Suggestions That Will Improve Your Life
You and your loved ones may face some situations, making it hard to make some decisions with a clear mind. When a caregiver comes into your home, they can view your current situation and make recommendations to make your home more comfortable and safe for all the family members. You will realize some of these changes you wouldn't have thought of in the first place. For instance, a caregiver may recommend you put some rails in the bathroom to help with ease of movement.
Close Monitoring of Your Loved One
Close monitoring is one of the reasons that most patients are admitted to the hospital. Home caregivers will closely monitor you or ailing parents, ensure they adhere to doctor's orders, and take their medications on time. Additionally, a home caregiver will ensure you keep all your doctors' appointments. If your parent is suffering from a respiratory illness, you can organize with the hospital to remotely monitor them while at home with the assistance of home caregivers. You can have a remote camera installed, allowing the hospital to monitor the patient at home and check in occasionally.
Home Caregivers Create A Convenient, Safe, and Comfortable Environment
Most older adults tend to heal when they recuperate from the comfort of their homes. There are fewer health complications when the patient is surrounded by familiar things and their loved ones at home. With home care, your ailing parent will have someone to assist them in taking their medication on time, sticking to their meal plan, providing companionship, among others.
A home caregiver will ensure the environment at home is safe by recommending safety measures. Sometimes, a home caregiver will work with your loved one to develop a routine that will be beneficial to them. A home environment also promotes healing as it ensures that your loved ones are in a familiar place, where they are comfortable, sleeping on their bed, and visiting with their neighbors.
Provide Personalized Care
Sometimes, an injury or illness may result in your parents' inability to carry out their duties. A home caregiver will provide personalized care depending on the circumstances, and they will come up with a care routine that will ensure your loved one retains their dignity at all times. This personalized care will ensure that your loved one lives a comfortable life and receives support whenever it's needed. A home caregiver may assist your loved one with bathing and dressing, and when they start improving, ease off, this will help your parents boost their self-confidence and self-worth.
Receive High-Quality Services
One advantage of hiring a home caregiver is that their services are grounded on their experience caring for the elderly and ailing society. A home caregiver will come equipped with experience which will ensure that you or your loved one receive the best care at the comfort of your home. When a caregiver develops a care plan that uniquely fits their parents' needs, they aim to ensure they are comfortable and hasten their recovery.  Personalized care ensures that the care provider concentrates on the patient, translating to quality care. 
Contact A Qualified Home Caregiver Near Me
If you and your family are considering engaging the services of a home-based caregiver in Los Angeles, CA, please contact Mom's Home Care at 323-244-4789. Our team of professionals will develop a tailor-made plan that suits your parents' needs. We offer adaptable services and ensure that we cater to your parents' needs. We hope your family lets us know the services and type of home-based care they want to have in their home. Whatever professional care you require at home, our team of qualified personnel will ensure you receive it from the comfort of your own home.
If you or an aging loved-one are considering hiring Elderly Care in Culver City, CA, please call Mom's Home Care and talk to our friendly, knowledgeable staff. 
Our number is: 323-244-4789