If you have recently learned that your aging parent is suffering from cancer, you are likely trying to plan for the care and management you will give to them as they go through this journey. One step that you can take to help your parent handle their management approach, and achieve and maintain their quality of life is to start home care for them. An in-home senior care services provider can help your parent, and you, during this time in a wide variety of ways.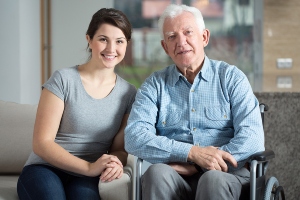 Some of the ways that elderly care can help your parent as they fight cancer include:
• Companionship and support. Cancer is a very emotional journey and those going through it are vulnerable to mental and emotional health issues and consequences including depression and anxiety.  A home care provider can offer support and companionship to help your parent deal with these issues and have a better perspective moving forward
• Good lifestyle choices. A care provider can be a valuable source of support and encouragement as your loved one seeks to make good lifestyle choices in their journey with cancer.  This includes eating a healthy diet, staying physically active, combating germs, and maintaining as much activity and independence as possible
• Reminders. Remembering to take medications and follow through with treatment or lifestyle instructions from their doctor can be difficult for your senior.   A care provider can give them valuable reminders to ensure that they stay compliant by taking their medications when they need to and following instructions as they are meant to
• Transportation. Getting to appointments is an essential part of a cancer journey, but also a challenge for a senior.  This care provider can provide safe and reliable transportation to ensure that they can get to these appointments and run other errands even if you are not able to be there
How can home care services help?
Home care can be an exceptional benefit to your parent's life as they age in place, and to you as their family caregiver.  An in-home senior care services provider can fill any care gaps that exist in the care efforts that you give to your parent, including being with them on a customized schedule to ensure that they have access to all of the care, support, and assistance that they need when they need it.
This care provider can work with you to design a set of highly personalized services for your parent that will ensure that their needs are handled in the way that is right for them.  This can include providing safe and reliable transportation, assisting with meal preparation, handling housekeeping tasks, supporting personal needs such as bathing, toileting, and dressing, and just being there for your parent to offer companionship for better emotional health as they age in place. 
This can also include offering reminders to help them to stay compliant with their medications, treatments, and lifestyle guidelines, given to them by their doctor so that they can get the most benefit from these during their later years.
If you or an aging loved-one are considering home care services in Bel Air, CA, please call Mom's Home Care and talk to our friendly, knowledgeable staff.
Our number is 323-244-4789.
Source
http://www.cancer.net/navigating-cancer-care/older-adults/aging-and-cancer
https://www.cancer.org/research/cancer-facts-statistics/all-cancer-facts-figures/cancer-facts-figures-2017.html
http://www.cancer.net/navigating-cancer-care/older-adults/cancer-care-decisions-older-adults