It's no surprise that aging can fundamentally change the way people get involved in their community.  Perhaps elderly people can't get around as well as they used to, or they have to endure more health challenges than before.  However, that doesn't stop many senior citizens from greatly contributing to their communities, just as they have their entire lives.  National Senior Citizen's Day was created to honor and recognize the many ways that elderly people make a positive difference in society.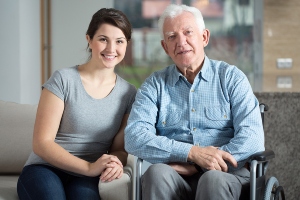 For adult children who provide elderly care for their aging parents, National Senior Citizen's Day can have a special meaning.  They may be so tied up in the day-to-day care of their elderly relatives that they may not stop to consider all the wonderful things they do in the community.  National Senior Citizen's Day gives adult children the chance to focus on senior citizens and honor their contributions. 
Origins of National Senior Citizen's Day 
When President Franklin Roosevelt signed the Social Security Act in 1935, many people observed a senior citizen's day then.  However, it wasn't until 1988 when President Ronald Reagan officially declared August 21st as National Senior Citizen Day.  He gave a memorable speech in which he said this about senior citizens: 
"For all they have achieved throughout life and for all they continue to accomplish, we owe older citizens our thanks and a heartfelt salute. We can best demonstrate our gratitude and esteem by making sure that our communities are good places in which to mature and grow older — places in which older people can participate to the fullest and can find the encouragement, acceptance, assistance, and services they need to continue to lead lives of independence and dignity." 
President Ronald Reagan 
Today, communities across the country are working hard to meet the elderly care needs of their most senior residents.  Family caregivers can join in and provide the support and acceptance that senior citizens really deserve. 
Observing National Senior Citizen's Day  
When it comes to official events for National Senior Citizen's Day, communities have plenty of options.  Some host charity events, fundraisers or activity days at the local senior citizen's center.  Others organize gatherings and invite seniors and their families, plus those who work with seniors on a regular basis. Many businesses offer discounts to senior citizens on this day.  Local news stations may run some interesting stories on the contributions of some elderly residents as well.  All in all, each community determines what it will do and how it will recognize its senior citizens. 
Family caregivers have the difficult yet rewarding job of caring for the physical and emotional well-being of their elderly relatives.  National Senior Citizen's Day is a fine time to look at seniors for the outstanding citizens they are and their lifelong contributions to society. Hopefully, there is more than one time in a year that family members realize how fortunate they are to have their elderly loved one in their life. 
If you or an aging loved-one are considering senior care in Beverly Hills, CA, please call Mom's Home Care and talk to our friendly, knowledgeable staff.
 


Our number is 323-244-4789.

Source: 

https://www.timeanddate.com/holidays/us/senior-citizens-day