The summer months are full of opportunities to spend quality time with your friends and family, but one you may not have heard of could be one of the most fun.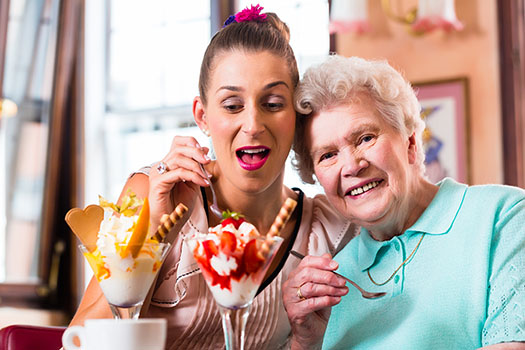 July 11th is Make Your Own Sundae day. This is a fantastic opportunity to get your loved ones together for a carefree celebration of the summer, boosting mental and emotional health, and supporting closer relationships. This is also a great opportunity to spend time together outside of the busy schedule that can often come with the 4th of July and can be easily customized to the needs and tastes of your family.
Use these tips to boost family fun this summer by celebrating Make Your Own Sundae day:
-Consider the best place to host the celebration. An ice cream social may seem like the perfect activity for the outdoors, but hot weather, intense sun, and the pests that are common during the summer can all make this more difficult. If possible, host your event somewhere that guests can enjoy time both inside and outside. This allows you to keep the ice cream colder, but still encourages enjoying the fresh air and having fun outside.
-Keep the flavors simple. The ice cream itself is the canvas for all of the toppings that will make this a true sundae and not just a bowl of ice cream. Avoid overwhelming your guests and risking too much ice cream being left over by keeping the flavors simple. Vanilla and chocolate will appeal to virtually everyone, and they can then personalize their treat with the toppings of their choice. If you have family members or friends who will be involved in the event but have dietary restrictions, such as needing sugar-free foods or dairy-free options, look for these versions and keep them aside so others don't get them confused with the conventional ice cream. This ensures everyone can enjoy a special treat that is safe and healthy for them.
-Offer a wide variety of toppings. The only limit is your creativity when it comes to offering toppings for a sundae. Sprinkles, whipped cream, cherries, nuts, and chocolate sauce are all traditional. If you want to get more creative, consider breaking up cookies, offering different types of small candies, chopping up fruit, or even providing different flavors of soda so your family can transform their sundae into a float.
Serve in small containers. Control portions and reduce the risk of upset stomachs and wasted treats by serving in small bowls. This will allow everyone to create a sundae they can actually enjoy rather than letting their eyes be too big for their stomach.
Add even more fun to the celebration by encouraging everyone to give their sundae creation a fun name and share it.
Elderly care can be an amazing addition to your care routine with your senior, and not just when you are unable to be with them. While knowing an elderly home care services provider can be with your aging parent when you are unable to be in the home with them, or unable to run errands with them or take them to appointments and activities, is reassuring, this is not the only way elder care can help. Even when you are with your parent, such as when you are enjoying an outing with them or hosting a special event with your entire family, having a care provider available can be tremendously beneficial. With this care provider around, your parent can feel confident knowing they have access to a consistent level of care, and they will have their needs met effectively without having to distract you from your other responsibilities, such as taking care of your children, or entertaining guests. This allows both of you to enjoy the activities and events more, and can better preserve your senior's health throughout the experience.
If you or an aging loved-one are considering hiring Home Health Care in Santa Monica, CA, please call Mom's Home Care and talk to our friendly, knowledgeable staff. Our number is 323-244-4789.