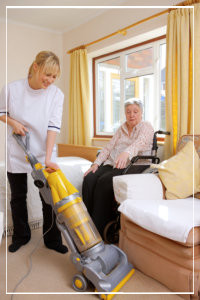 Maintaining a clean, well organized home is important for the client's health. Our staff members help client's with light housecleaning as well as various tasks involving home maintenance. Keeping bathrooms and kitchens clean are important to prevent the spread of bacteria and molds that are known to cause illness and upper respiratory problems. Caregivers also help to keep bedrooms in order by changing linens regularly or as needed. It is our goal to help our clients maintain their home so they live in a safe, clean environment at all times.
A few of the light housekeeping services we provide include:
Upkeep of the kitchen: dishes, sweeping, mopping, wiping down counter tops and fridge
Bedroom care: changing linens and general bed care
Laundry
Keeping clutter to a minimum
Taking care of the trash
Caring for pets
Clients who are limited in the amount of physical activity they are capable of will benefit greatly from the services of an in home caregiver. They can rest comfortably knowing their home is clean and well taken care of.