ALS stands for amyotrophic lateral sclerosis. It is also sometimes called Lou Gehrig's disease after a famous baseball player who once suffered from ALS. Because the risk of ALS increases with age (most people get it between their 40s and late 60s), it's important for caregivers of older adults to understand the symptoms of the disease, particularly if you are caring for someone with ALS. When you know the symptoms and are prepared for them, you will be more prepared to deal with them as they occur.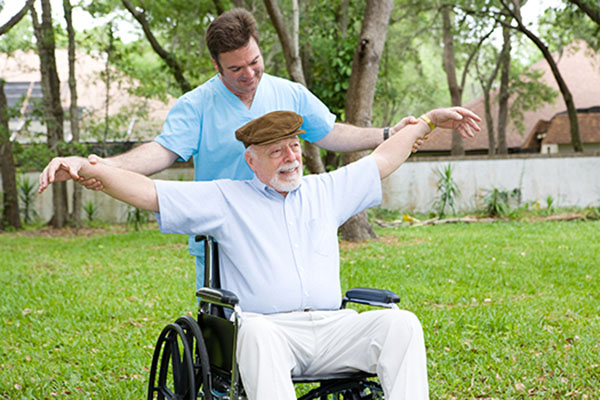 ALS Symptoms
ALS is a progressive disease. The initial symptoms are mild, but things get worse as time goes on. Many times, the symptoms start on one side of the body. Later, almost all the muscles that are in the person's control are impacted. Some of the early symptoms may include:
Stumbling when walking.
Dropping items frequently.
A feeling of weakness in the lower limbs.
Changes in speech, such as slurring words.
Difficulty swallowing.
Cramping muscles.
Trouble holding the head up.
Stiff muscles.
Symptoms that may appear in the later stages of ALS are:
Weaker muscles and a decrease in muscle mass.
Chewing and swallowing problems that get worse, which may cause choking.
Speech that is so severely impacted others have a hard time understanding it.
Breathing difficulties.
Managing Symptoms
Unfortunately, there is no cure for ALS. However, there are ways to manage life with the symptoms. Doctors usually recommend that patients begin therapy to keep muscles strong for as long as possible and learn new ways to deal with the disease. Doctors may suggest the following kinds of therapy:
-Physical: A physical therapist will work to strengthen and maintain large muscles used for actions like standing, reaching, and walking.

-Occupational: An occupational therapist works with the small muscles needed for fine motor control, such as those in the hands. They help people with ALS to find new ways and new tools that allow the senior to continue being as independent as possible.

-Speech: In addition to helping with speech problems, a speech therapist will also help with swallowing problems.
There are also many tools and devices that can help people with ALS, such as motorized wheelchairs and devices to assist with communication.
While therapy and tools can certainly be an important part of living as full a life as possible with ALS, your older family member will also require a lot of help from others. Eventually, they will need round-the-clock care. Senior care providers can assist with your older family member's care. Senior care providers can help them to dress, bathe, and use the toilet. They can also prepare meals and clean the house. In addition, a senior care provider can offer comfort and companionship, an important part of keeping the older adult's spirits up.
If you or an aging loved-one are considering hiring

 

Home Health Care in Beverly Hills, CA, please call Mom's Home Care and talk to our friendly, knowledgeable staff.

 


Our number is: 323-244-4789